WELCOME TO GAMUDA LAND. WELCOME HOME.
For over two decades, Gamuda Land has been building up a proven track record of delivering innovative developments and creating holistic, sustainable township communities – in Malaysia and across the region.
As a town maker, we create places that people will call home, want to be a part of, grow up and grow old in.
MAKING A GOOD TOWN
A town can mean different things to different people.
What's important is that a town has to be about special places,
great placemaking.
When we create great gathering places
When we lay out the parks and lakes to open up to each neighbourhood
When we apply architecture and craft beautiful streetscapes
When we have a town square that draws people together
We start to create a personality for the town.
So, when people move in and live there, they'll experience a real difference.
They'll get a feel for the place and want to be a part of it.
LISTENING TO WHAT THE LAND HAS TO TELL US
Listening To What the Land Has to Tell Us
An important part of our master planning is listening to what the land has to tell us.
Our land has blessed us with many resources – rolling terrain, beautiful hills, lush wetlands.
So, we are able to work with nature.
We bring the water that runs off the land to flow it into natural ravines between hills to create lakes.
We preserve the hills in our towns so we are able to have hilltop homes just as we have lakeside homes.
The trees that were there long before we came, we preserve them and only transplant if we need to.
As such, the essence of the place remains unchanged, only enhanced.
So, by listening to the land, it allows us to create enchanting opportunities.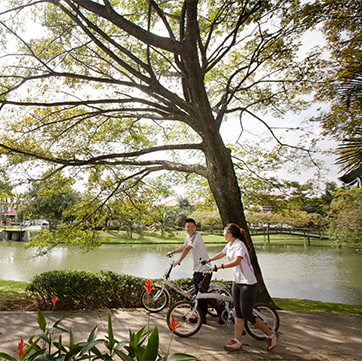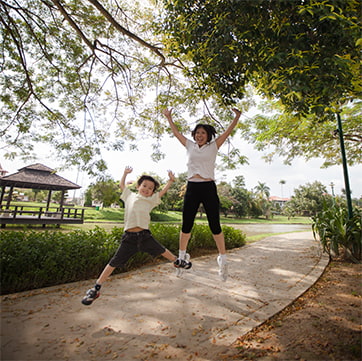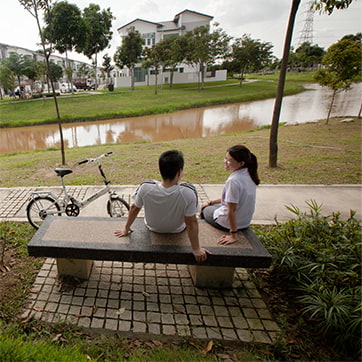 WHEN WE GET THE PLACES RIGHT, THE TOWN WORKS
So, we think not only of the home place. We think of the work place.
The play place. The shopping place. The park place. The learning place.
We need mindful planning and to be able to bring all these places together thoughtfully. They have to be organized around a 'town square', often by beautiful lakes with a waterfront and a promenade, to give the town a sense of place. It's our way of connecting you with friends and the community, with nature and with yourself.
A GOOD TOWN IS A CONNECTED TOWN
Town making is not just about construction. To do it right, we have to think through the connectivity. And there is an art to it. There has to be an infrastructure masterplan that ensures easy accessibility. Right from your home to the highway and all the neighbourhood stops in between.
To virtually connect people to one another is just as important. So the masterplan has to have the right technology and solution. As a town maker, we make decisions today that affect people and that could be forever, so you have to be very mindful in planning.
It is our way to look at the details to make the town work.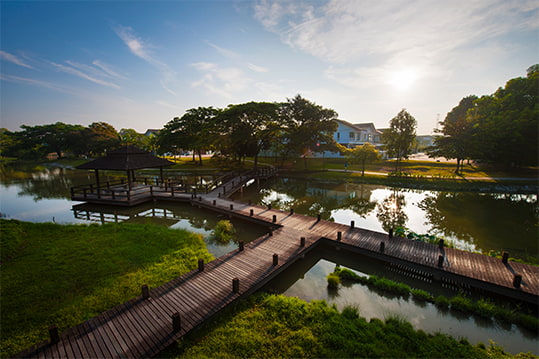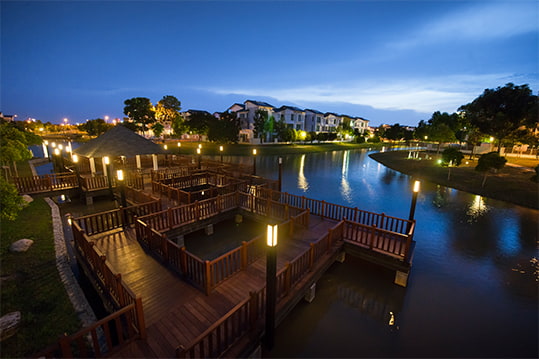 A TOWN IS COMMUNITY
The common ground for everyone in a town is the community.
Where people know one another. Where they live and play together.
Where they look out for each other.
As a town maker, we are creating a place for everybody.
They can be growing families, retirees, young married couples, single adults and busy people in the workforce.
Because a town is all about people and diversity.
That is why our planning principles – from the masterplan to architectural design – allow for these interactions and promotes that connectivity to others. You will know your neighbours.
The streets are not just designed for cars, walkability and bike-ability are just as important to us.
When you walk out the front door, down your street and to the town square – we want you to experience a fascinating journey every time. That's the joy you have as a community in our towns.
Ultimately a happy community makes a good town.
And that is what's important to us.
OUR PHILOSOPHY
Our commitment to delivering sustainable value to communities is underpinned by these three key principles that guide the creation of all our developments.
Every project at Gamuda Land begins with a holistic and comprehensive Master Plan to create a well-laid out development that is able to sustain several generations.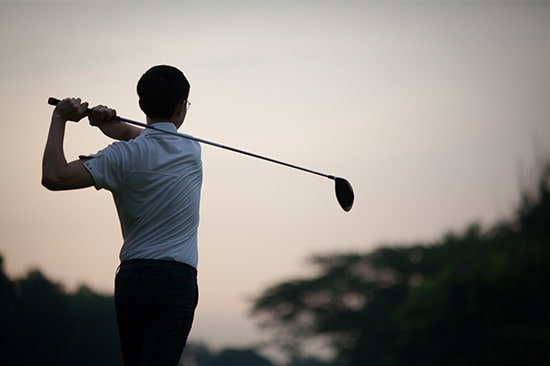 We plan and design each development for long-term viability and growth with at least 40% of the land area earmarked for greenscapes. This allows communities to grow and expand organically in terms of population and activities.
We tap innovative solutions to deliver designs that are workable and which will be well utilised by residents.
We focus on the preservation of the natural topography and incorporate well-planned, multi-functional natural features to ensure the sustainability of the natural environment.
We incorporate designs of the highest quality that features the highest CONQUAS scores, Green Building Index or GBI-certification, plus recognition from other professional bodies.
We place great emphasis on place making. We go all out to ensure a happy and healthy community by providing a beautiful and conductive environment that contains the right mix and hierarchy of community facilities and amenities. All of these aim to provide a complete and enhanced quality of life.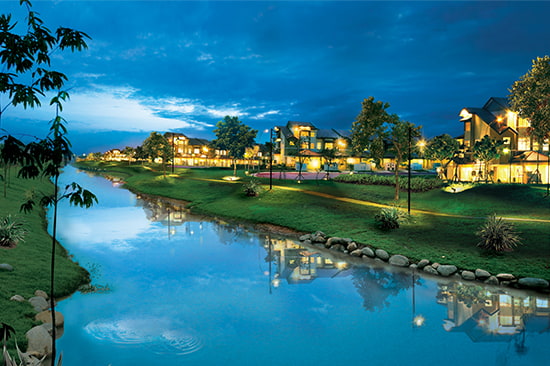 BEAUTIFULLY CRAFTED ENVIRONMENT
By incorporating clubhouses and communal spaces (i.e. parks, lakes and playgrounds) at the right locations, we encourage community interaction.
Our offer of the right mix of lifestyle and retail services, health and recreational facilities, entertainment centres and public/private schools enable us to consistently meet the lifestyle needs of our communities.
To safeguard residents and ensure their safety, we continue to adopt a two-pronged approach:

- We were the pioneers of the gated and guarded community concept and today we continue to offer a three-tiered security system comprising perimeter fencing with camera surveillance, panic buttons in homes, plus guardhouses with 24-hour guard patrols.

- To ensure resident safety, we incorporate features such as curve roads and speed breakers to slow down traffic as well as cul-de-sacs to minimise pass-through traffic.
We focus on good locations. Together with a well-planned sustainable environment, as well as the right mix of features and amenities befitting a holistic lifestyle, this lends to the makings of a development with good growth value. To date, our track record of producing such assets speaks for itself.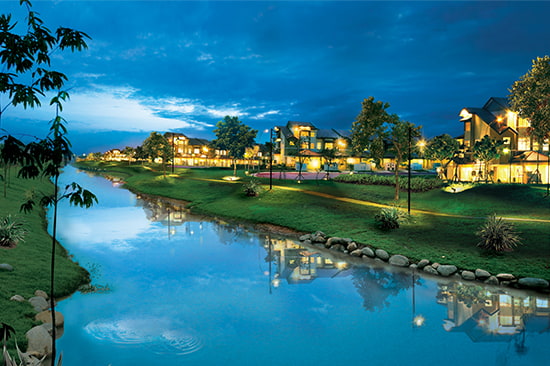 Our developments are built in areas with ready accessibility (i.e. via highways or public transportation) thus providing easy connectivity to key areas.
Our properties are strategically located in areas of high growth potential thereby positioning them for sustainable value growth. These include:

- Mature townships and established lifestyle areas for the convinience of residents and good rental yields;

- City fringe developments close to or directly linked to key highways to ease travel to city centres and areas undergoing expansion; and

- Commercial sites with good frontage.
Strong master planning, a beautiful crafted environment, plus good location are the winning attributes that offer residents a complete and sustainable lifestyle for today and tomorrow. All these elements also lend to the makings of developments that have capital values that continue to appreciate over time.
As testament to our efforts, Gamuda Land has successfully won The Edge-PFPS Value Creation Excellence Award for four consecutive years. This award measures the capital appreciation of properties between their selling and subsequent resale prices, and our properties have proven their mettle time and time again.