Master Site Plan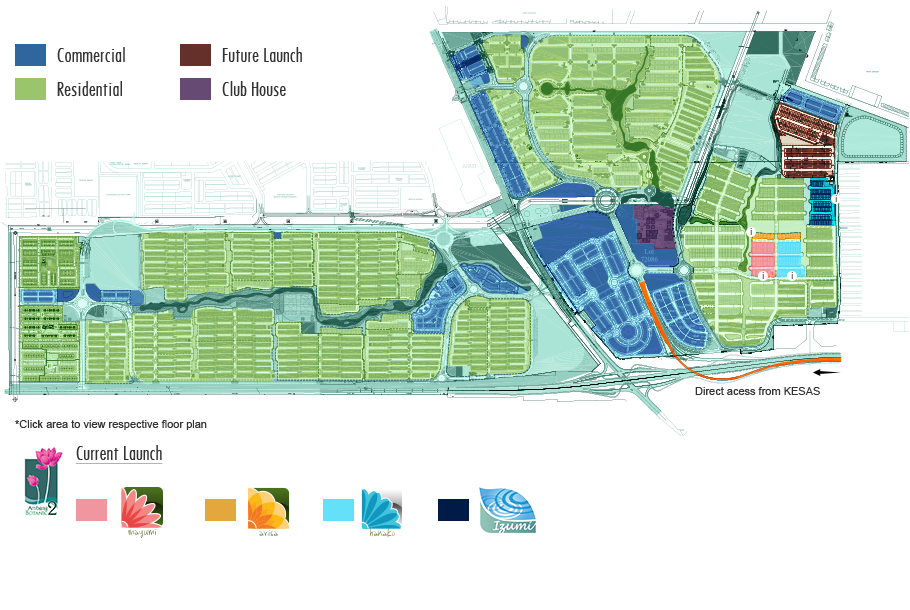 The concept for Bandar Botanic is a waterfront-parkland where there are endless meandering lakes and parks giving the township a botanical feel.
At Gamuda Land, we believe that everything starts at the foundation, and to achieve what we set out to accomplish, a well thought and meticulous master plan was in order. Major emphasis is placed on providing a green and healthy environment for our community. More than 180 acres of the township are dedicated to greens, parks and lakes. We believe in providing community with a quality lifestyle.
With that in mind, our team of creative and innovative engineers and architects planned and designed the township with value-added features such as superior infrastructure, abundance of greenery, parks and community facilities and amenities.
To show our commitment in providing easy accessibility, we constructed a RM30 million dedicated interchange to provide the township with direct access to the Shah Alam Expressway.
We also take great pride in putting creative environmental architecture into practice. What posed as a challenge to comply with mandatory requirements for urban storm water management (MSMA) turned the 2-km Central Lake Park into great achievement.
The lake was created to function as a detention and regulating pond for surface water run-off and to serve an aesthetic purpose with elaborate themed parks and gardens, leisure and activity areas designed around the lake for the community to enjoy.
Botanic West features a unique 70-acre botanical parkland with a 2-km lake. Homes here are designed to look over the Central Lake and are surrounded by beautifully landscaped pocket parks that truly add to the tranquility and privacy of the botanical haven.
Botanic East offers unique waterfront parkland with lush landscaping, private gardens and green lungs in a botanical environment.
The waterfront with its lavish parks and gardens provide a serene and tranquil ambience to this enclave of bungalow homes, semi-detached homes and garden terraces.