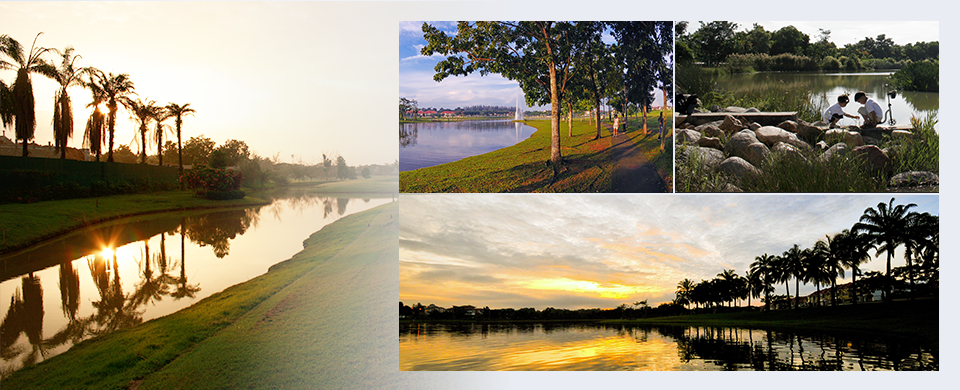 SIGNATURE FEATURES
KOTA PERMAI GOLF & COUNTRY CLUB
The hallmark of Kota Kemuning township, Kota Permai Golf and Country Club provides a resort-style setting which is an ideal living for the community.
This international standard 18-hole golf course is designed by one of the world's renowned golf course designer, Ross Watson.
This award-winning course offers golf enthusiasts an exclusive challenge of enjoyment while the premium clubhouse provides its community a full range of facilities and amenities for pleasure.
Kota Permai's remarkable success is recognised by numerous awards:
2013
1st Runner Up Best Course In Malaysia
Asian Golf Monthly Awards
6th Best Maintained Course In Asia Pacific
Asian Golf Monthly Awards
10th Best Course In Asia Pacific
Asian Golf Monthly Awards
2011/2013
Gold Winner – HAPA Golf Course Of The Year
Best 5 in Asia
2011/2012
4th Best Maintained Course In Asia Pacific
Asian Golf Monthly Awards

10th Best Clubhouse In Asia Pacific
Asian Golf Monthly Awards

Best Golf Course in Malaysia
Golf Malaysia Magazine

Best Maintained Golf Course in Malaysia
Golf Malaysia Magazine

Best Customer Service Club in Malaysia
Golf Malaysia Magazine

Best Maintained Golf Course
Pargolf Awards

Best Course in Malaysia
Star Golf

Best Greens in Malaysia
Star Golf

Best Golf Operations in Malaysia
Star Golf

Best Brands in Sports (Golf Course)
Brandlaureate Awards

2nd Best Course in Malaysia
Asian Golf Monthly Awards
2010
Best Brands in Recreation (Golf Course)
Brandlaureate Awards
Host Venue of the Year
Mercedes-Benz Tour
2nd Best Course in Malaysia
Asian Golf Monthly Awards
2009
Best Golf Course in Malaysia
Asian Golf Monthly Awards
2007/2008
Best Golf Course In Malaysia
Golf Malaysia Magazine
Best Maintained Golf Course In Malaysia
Golf Malaysia Magazine
Best Golf & Country Club
Hapa Platinum Awards
2005/2006
Best Golf Course In Malaysia
Golf Malaysia Magazine
Most Scenic Hole (Hole 2)
Golf Malaysia Magazine
Most Memorable Golf Course
Golf Malaysia Magazine
2001/2002
Best Golf Course In Malaysia
Golf Malaysia Magazine
Most Scenic Hole – Hole 2
Golf Malaysia Magazine
Most Memorable Golf Course
Golf Malaysia Magazine