Trees play an important role in our lives and development. Establishing a wetlands arboretum in a 90-acre forest park at Gamuda Cove allows us to showcase Gamuda Parks' green database accumulated over the past 25 years. We plan to draw on the native knowledge of Orang Asli and scientific findings of arborists to cultivate plant and tree species effectively in this forest park. These trees will then be relocated to Gamuda Land developments under the Advance Tree Growing initiative. In this issue, Khariza Abdul Khalid, Chief Operating Officer of Gamuda Parks, shares the top five things that you should know about our very own forest park and the wetlands arboretum that will be set up in the forest park.
1. What is this forest park and why is Gamuda Land creating a forest park?
Gamuda Land earmarked 90-acre of prime land in Gamuda Cove for the creation of the Forest Park, envisioned to be a natural sanctuary for wildlife conservation, nature research and forest fitness. The Forest Park is designed with the aim of fighting
climate change while fostering education and biodiversity research with the development of a Wetlands Arboretum, located within this sanctuary.
Gamuda Parks has taken a role in safeguarding the wetlands to conserve the biodiversity of the natural site, while raising public awareness about the importance of wetlands as ecological features, providing food and habitat for fish and wildlife
(including threatened and endangered species), water quality improvement, flood mitigation, shoreline erosion control, economically beneficial natural products for human use, and opportunities for recreation, education and research.
2. What are we doing with the planted trees in the forest park?
As a forest seeding bank and nursing ground for healthy plant stocks, seeds will be gathered for propagation and research purposes during the fruiting seasons. Matured seedlings above 1m in height will be transplanted to townships such as
Gamuda Gardens or Jade Hills.
Priority is given to growing native species and trees with high values under the International Union for Conservation of Nature (IUCN) red list. Progressive monitoring and observation systems are implemented to ensure a 100% survival rate
for these plants.
This advance tree growing programme is an example of nature-based solutions that can help to restore our ecosystems. With these measures in place, our end goal is to plant up to 1 million trees by 2023.
3. What else besides trees in the forest park?
In addition to a wetland arboretum acting as research facilities and educational hubs, the entire park is designated into several botanical zones, namely the Threatened Species Garden, Shorea Forest, Ethnobotanical Garden, Shoreline Fringe, Riparian Fringe, Floodplain Terrace, Berry Garden, Timber Species Garden, Palm Forest, Bamboo Forest and Aromatica Garden.
Each zone has specific themes and functions to serve. For example, the Ethnobotanical Garden will harness the traditional knowledge of indigenous communities and provide information about medicinal plants, herbs and spices, while the Berry Garden will attract birds for leisure bird-watching.
Most importantly, it houses a comprehensive collection of riparian specimens to stimulate a wetlands forest.
4. What is an arboretum and why do we need it?
An arboretum is a botanical library, or a large garden, where many types of trees are grown for people to enjoy and observe for conservation, leisure or academic purposes.
In our context, the wetlands arboretum is a research centre located within the 90-acre forest park in Gamuda Cove. It is also contiguous with the 1,111-acre Paya Indah Discovery Wetlands in the Southern Klang Valley.
Due to open in 2021, the wetlands arboretum will exhibit more than 300 protected wetlands species, aquatic plants and marshes. It will fulfil multifunctional objectives for Gamuda Parks, such as forest restoration, floodwater drainage reserve, research lab and seed bank facility.
Wetlands are among the most productive ecosystems in the world. They cover just six to nine per cent of the Earth's surface but contain about 35% of global terrestrial carbon stock.
With a high capacity to sequester carbon and store carbon-rich organic sediments, wetlands have become the most vital ecosystems to conserve for global carbon balance check and climate change mitigation.
The wetlands arboretum to be built in our 90-acre forest park is therefore critical to preserving these thriving wetlands, promoting wildlife and plant genetic diversity.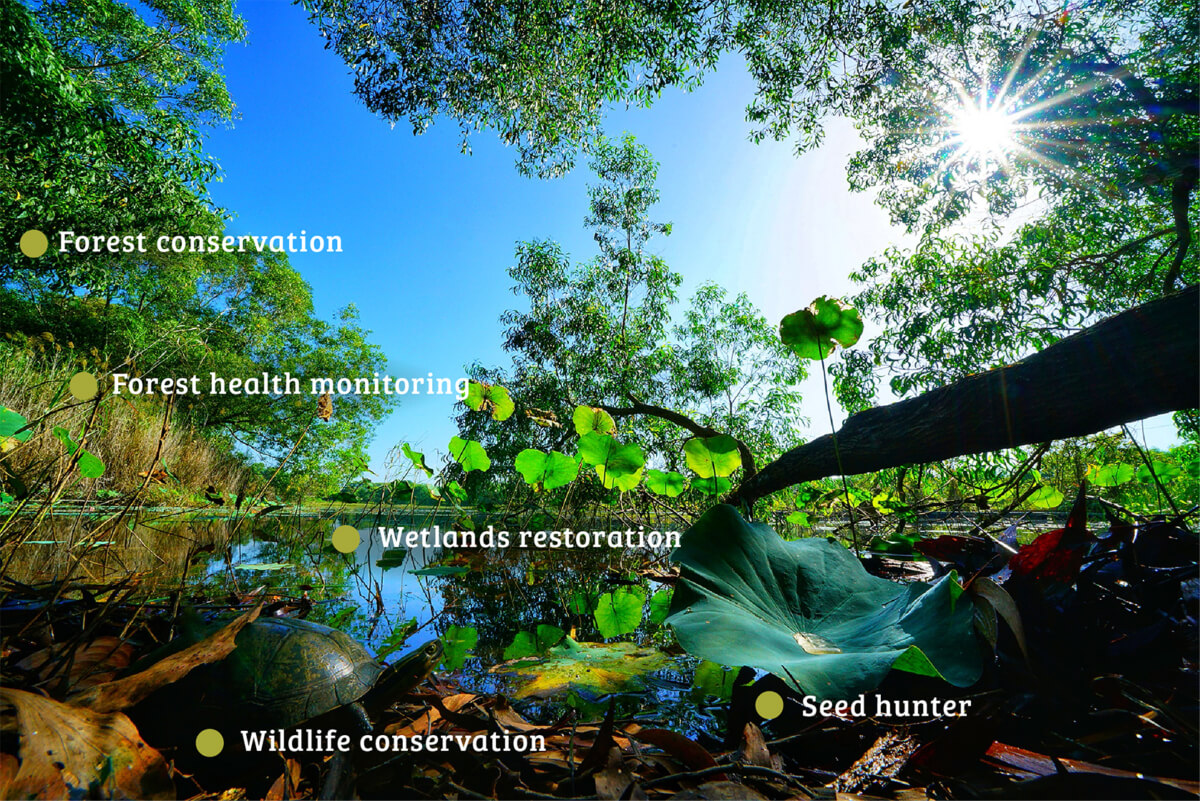 5. What are the differences between an arboretum and a nursery?