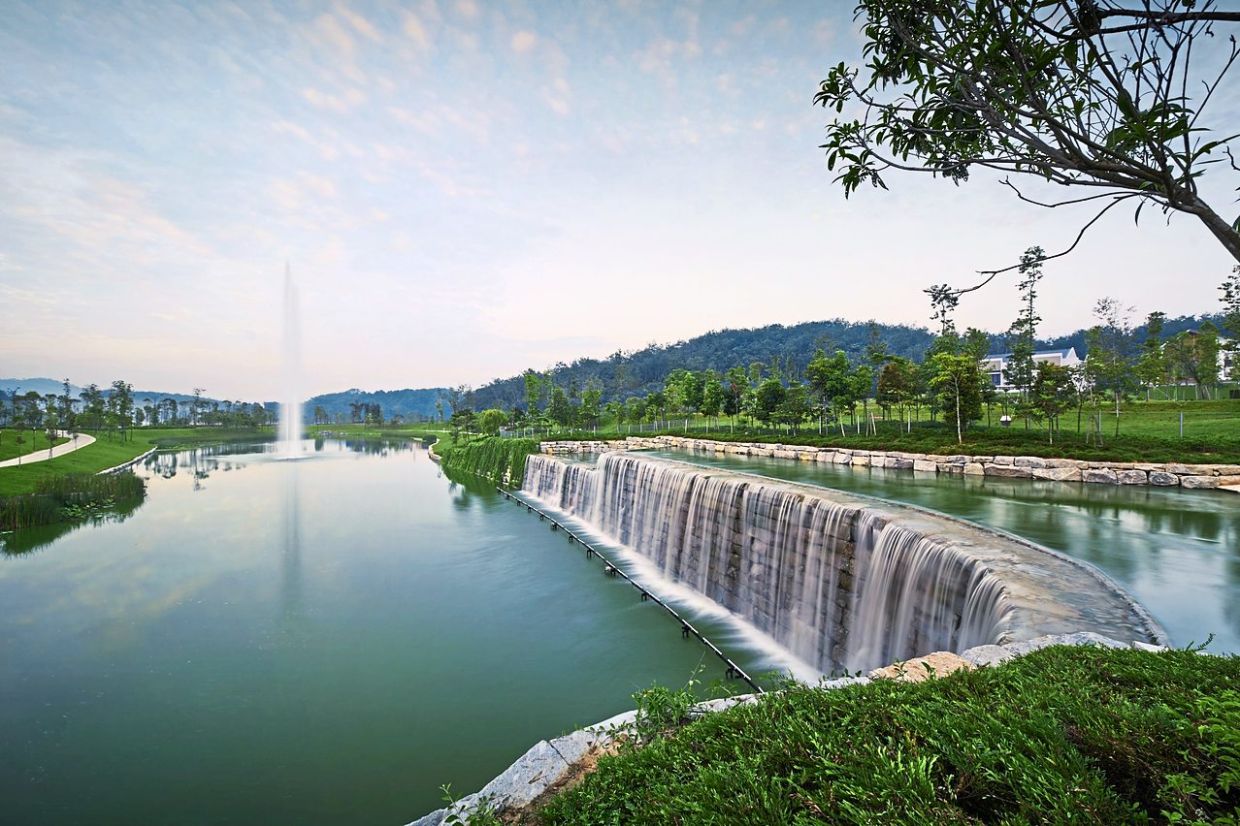 IT has been more than three months since Malaysia cautiously entered the recovery movement control order (RMCO) phase but life has yet to fully return to normal and things might very well never be the same again.
As we make adjustments to our daily lives, many are reflecting on what we really, truly need to be healthy and happy. Everything else will become unnecessary.
Instead of focusing on aesthetics, a good town would have carefully thought through the living environment, the essentials and how each component within the town integrate with one another effortlessly on the onset of planning.
"The announcement of the MCO took us by surprise and during that period, our home became our sanctuary," said Gamuda Gardens general manager Chu Wai Lune.
"There was a heightened sense of concern for our health and wellness and how indoor air quality may affect us.
"People turned their dining table into a makeshift work space and cooking from home became a norm.
"While confined to our home, many also started to appreciate nature and outdoor space especially outdoor dining. Taking the cue from the changes in people's preference of the home place, we are enhancing our future phases' design and layout to better suit the new norm," he said.
Suburban living
One of the emerging trends is the relocation of people from crowded cities to suburbs where personal living space becomes more generous.
While some may have returned to work in their offices, many are still working remotely from home and this trend may continue well into the future.
Workers who no longer need to remain within commuting distance of the office can now opt to live in places that are most desirable to them. Suburban towns are now appealing to these people as they offer better air quality, generous living space as well as sprawling parks for wellness.
Gamuda Gardens in Sungai Buloh, Selangor, is in a good position to benefit from this trend. Located just a 20-minute drive from Petaling Jaya, this suburban township is close enough to a mature city while sheltered from the hustle and bustle of the busy city.
"Gamuda Land's town-making principles have given us the advantage in this situation. We have always been mindful about putting in upfront investment for the creation of a central park, natural landscaping, good infrastructure including high-speed broadband, a wellness clubhouse as well as a Waterfront Village where residents can obtain their daily necessities.
"All of these are completed at Gamuda Gardens so we can now focus our attention on improving the home place, creating designs that cater for multipurpose space usage," Chu said.
Gamuda Gardens offers our elders an exciting "second childhood" according to Shakespeare's Seven Ages of Man.
They will be happier to live within a community where they can come out from their home and mingle with other adults or young adults who are similar minded.
"Most of our elders would prefer to still live a healthy and active lifestyle. Suburban townships like Gamuda Gardens offer lush parks and green spaces where they can take their daily stroll and meet their neighbours.
"Activities are abundant within the township and necessities are within walking distance. It is a conducive place for our elders to live well and remain active," Chu said.
To complement the residents' health and wellness journey, each residential household is allocated a one-year wellness membership at Gardens Wellness Club for four persons. Facilities at the club include an Olympic-length swimming pool, dance studio, badminton courts and a well-equipped gym.
Gamuda Gardens
The hallmark of Gamuda Gardens is the 20ha pet-friendly central park with two waterfalls and five cascading lakes.
A 5.5km paved pathway is weaved through the grassy parkland, making it ideal for jogging, walking and cycling while offering joggers and cyclists scenic views of the waterfront.
Nestled within the central park is Adventure Playland, a children's playground that is more than just the ubiquitous slides and swings. It has a zipline and rock-climbing elements that will excite all children.
The Waterfront Village comprising commercials as well as a wellness centre was designed to follow the contour of the park, allowing a sweeping view of the lush greenery and lakes. One can find the Freshii neighbourhood market, F&B outlets and Gardens Wellness Club.
Completing the holistic lifestyle at Gamuda Gardens is the Big Bucket Splash, a children's waterplay with towering slides, shallow pools, water guns, rainforest animal characters and rain buckets, just to name a few of the exciting features. It is also an ideal venue to host events such as birthday parties.
With all these available, it is no wonder that city folks are turning their attention to Gamuda Gardens, where they can achieve a balanced lifestyle and more importantly, live within a healthier ecosystem.
Illaria hillside homes
Gamuda Land's town-making principle of "listening to what the land has to tell us" mandate that the township is built with respect to nature.
Thoughtful preservation of the hills creates opportunities for Gamuda Gardens to have hillside homes for its new precinct – Illaria.
Keeping to the masterplan's nature theme, Illaria features townhouses and terrace homes that are nestled amidst green landscapes and gardens within a gated and guarded community.
Illaria's design and layout take into consideration the many hours that people spend at home within the same space doing more than what it was built to do – full-time jobs, workouts, children's learning and playing, cooking, dining space as well as resting.
"So, we decided that there are some things that people can do together as a community. We extend the home space into the outdoor.
"By carefully tweaking the design and layout of the precinct, we now have a community kitchen, an outdoor barbecue area, community farming, yoga deck, putting green and an inspiration pod or a co-working space, if you may, within the gated and guarded precinct of Illaria.
"This frees up spaces at home for the residents," Chu explained, adding that home layouts were also given extensive consideration.
Selected units at Illaria feature an open kitchen with direct access to a backyard where the space can be used as a children's play area, for urban farming or outdoor dining.
The home is laid out as such so that parents can easily keep an eye on their children if they're playing in the backyard.
This space is then seamlessly connected to a multipurpose room which can be converted into a home office, art studio, workshop or hobby room, providing flexibility for the occupants to customise the space according to their needs.
"We learnt that with innovative and mindful planning, we can overcome challenges to create useful and flexible spaces at home without compromising our lifestyle.
"The good news is, homes at Illaria is set at an attractive starting price so don't miss out on this opportunity to be a part of this lush hillside community," Chu concluded.
In addition, Gamuda Gardens is equipped with high-speed broadband, which the developer is providing a two-year complimentary access for each residential unit. This will enhance overall living and working experience in the township.
Illaria is now open for registration. To find out more, visit Gamuda Gardens Experience Gallery or call 03-2727 7438.