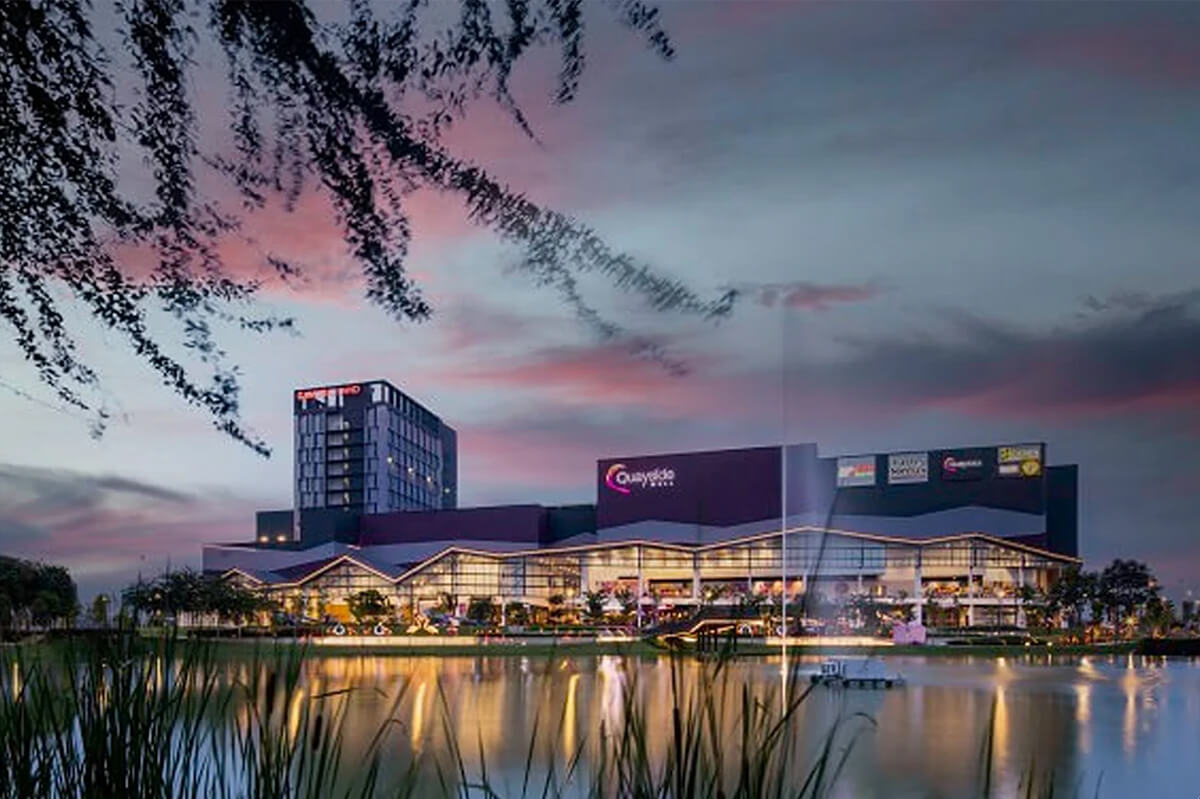 Quayside Mall, Gamuda Land's unique new retail offering in the vibrant township of twentyfive.7, Kota Kemuning, is set to uplift the commercial and leisure pulse of the area, pointing the way to a brighter future for retail spaces designed for post-lockdown requirements with appropriate social distancing guidelines and SOPs in place.
Catering for what Malaysians want in a mall
The commercial hub, which opened its doors to resounding response from twentyfive.7 residents and the public on 19 December amid the Conditional Movement Control Order, addresses ongoing concerns regarding the viability of retail following months of lockdown, showcasing high footfall as residents and visitors filled its bright, thoughtfully crafted spaces, in compliance with health and safety regulations.
Jubilant shoppers and families at their leisure were seen at the opening, taking in the sights and sounds of Quayside Mall's waterfront promenade and curated community spaces, such as the open, integrated Market Square and spacious central atrium with larger-than-life statues of the mall's flamboyant flamingo mascots, while relishing its targeted tenant mix emphasising essentials such as Jaya Grocer and dining outlets such as Rong Cuisine, Nutz n Boltz, Starbucks, Union Artisan Coffee and more.
The Market Square's play fountains were a favourite for families, as children enjoyed a moment of fun in the sun while running through plumes of cascading water. Meanwhile, visitors from every walk of life with face masks firmly in place leveraged on Gamuda Land's exciting line-up of promotional programmes and activities, from door gift redemptions to a Count the Flamingos contest encouraging participants to find every sculpture of the avian figure dotted around the building and its surrounding spaces.
A neighbourhood retail hub with style and savvy
Quayside Mall's strong performance on opening comes despite conceptualisation and development for the mall taking place prior to the global Covid-19 pandemic. This underscores Gamuda Land's future-forward master planning across its portfolio, with the right places ready to serve the community when they move in.
Planned with these principles in mind, the retail hub is in tune with the shifting post-lockdown retail landscape, favouring open retail spaces with optimal ventilation, as well as tenant mixes emphasising essentials and dining operators.
This is reflected in Quayside Mall's positioning, serving as a much-needed retail and leisure landmark in Kota Kemuning while catering for the everyday needs of the community, with anchor tenants such as Harvey Norman fulfilling household essentials while driving daily footfall to the mall.
The new epicentre of Kota Kemuning
Comprising 107 retail outlets over four storeys, the mall caters for everyone's favourite Malaysian pastime with an expansive waterfront promenade where diners can enjoy views of twentyfive.7's central lake, complete with an Aurora Rhythms musical fountain, while relishing the sumptuous fare at its host of dining options.
Throughout Quayside Mall, the eye-catching hues of its inimitable mascot bring energy and dynamism to its places and spaces, from Malaysia's first pink escalators to the striking, contemporary aesthetics of its restrooms, lending a touch of the extraordinary to casual creature comforts for visitors as well.
With the mall set to bring renewed vibrancy and cosmopolitan chic to the surrounding township as well as Kota Kemuning as a whole, it serves as a showcase of Gamuda Land's placemaking principles in practice, bringing people and spaces together through a thoughtful mix of residential, commercial and leisure components strategically located within easy reach across its projects.