There is always a sense of camaraderie when City & Country meets up with the affable Ngan Chee Meng, CEO of Gamuda Land. "[This award] is least expected. I was more hopeful that Gamuda Land might win number one," he chuckles.
Ngan received the Outstanding CEO award at The Edge Malaysia Property Excellence Awards 2022. This award is given to CEOs or professionals who have taken their company to exceptional levels.
A chartered accountant by profession, Ngan has been with Gamuda Bhd for almost 30 years, following a series of assignments that serendipitously led him to where he is today. "I started working with Coopers & Lybrand as an accountant in 1990 and interestingly, I had a lot of assignments to do with reviving abandoned housing projects initiated by Bank Negara under TPPT (Tabung Projek Perumahan Terbengkalai). That started my line of work, which helped me understand how development projects work."
The senior consultant at Coopers & Lybrand (now known as PricewaterhouseCoopers) subsequently joined Hong Leong Industries Bhd as group accountant of the building materials division. "This further helped me understand the supply chain of the industry, how finishes work, how quality problems happen and how to deal with such issues."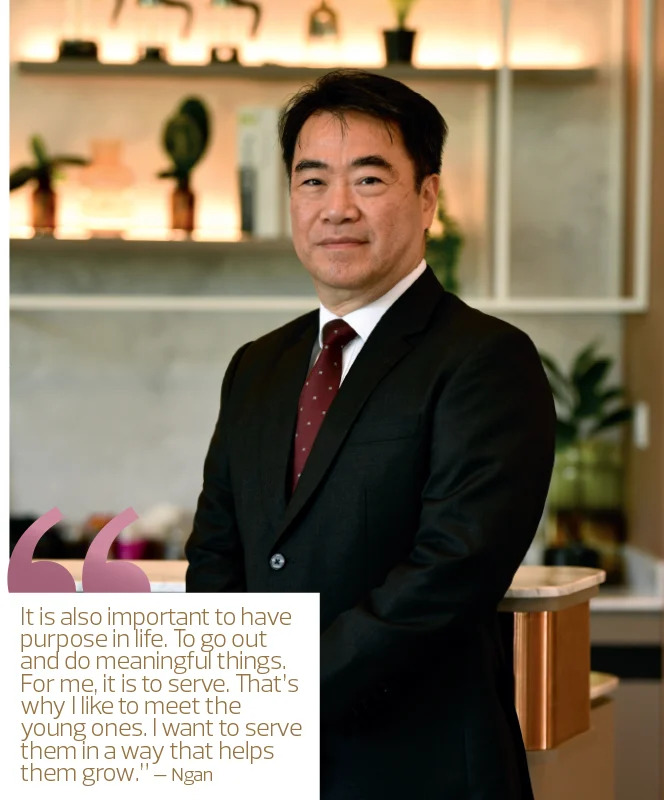 Ngan then joined Gamuda in 1995 as head of finance for the company's first property development project, Kota Kemuning. "Being part of the pioneer team for Gamuda's property division's first project, Kota Kemuning, was an important learning curve for me. I had to work with planners, architects and engineers plus sales and marketing seniors, further expanding my knowledge and experience in the property industry. Also of key importance was the privilege of working under the guidance of the group managing director Datuk Lin (Yun Ling), who played a significant role in shaping my leadership qualities over the years.
"When Datuk Lin decided to expand the [property division], I was made the first divisional chief financial officer (CFO) of Gamuda Land because by then we had many projects under our belt — Kota Kemuning, Valencia and Bandar Botanic — and so we wanted to consolidate. Before that, there was a head of finance for each project but not a group CFO. We consolidated and went overseas to Vietnam, Singapore and Melbourne, and started having projects outside the Klang Valley, in Johor. This process has helped me understand what it takes to expand the business."
Ngan then stepped up as the chief operating officer (COO) of Gamuda Land in 2017 before he assumed his current position in 2019. "When I took on the role of COO, I had already been in Gamuda for 20 years.
"So this is how my career started and how it came to be. It took many years of work, learning and improving. I also think I've been lucky because all my previous work has been aligned with this industry. That has helped."
Taking a long-term view
A major milestone — and a key challenge — for Ngan was when he was tasked to lead Gamuda Land as COO and grow the property division's sales to RM4 billion. "At that time, we were doing on average RM1.3 billion. So, I had to put strategies in place."
His strategy was to build a new and young team that could sustain the business in the long run. "The challenge was getting many of my seniors, knowing they were more experienced and much older or wiser than I was, to work with me in setting up a totally new team. This was not easy," he shares candidly.
"As much as we wanted to see immediate results, it took a lot of perseverance, belief and hard work. With the group of new and young talents, we had to guide them, get them aligned to our values, mentor them and give them opportunities to learn and grow."
In addition to the fact that they delivered record-high property sales of RM4 billion for FY2022 ended July 31, Ngan is happy to note that many of Gamuda Land's employees between the ages of 30 and 45 are in senior positions and playing key roles today.
"Five years ago, the average age of senior management was about 55 or 56. Today, I see that many of our board of directors and senior management are in their 30s and will be able to carry on for the next 10 to 20 years, and this did not happen overnight. We planned for this transition," he says, adding that this will help the company move on to achieve its new target of RM8 billion.
Speaking approvingly of his team, Ngan says: "I'm glad we have them because they're so young and eager. They've been flying in and out and running around for me. I guess young people have a lot of energy and don't mind travelling. They are probably looking forward to it. They have the energy."
Meanwhile, he is optimistic about the company meeting its new five-year target. "This time around, we are confident about the expansion because we have expanded before. This is nothing new to us. But to continue to expand, we must really go regional, and hence, we must really have the people. This time, it will be easier because we have people who are more experienced, all well trained and have the Gamuda DNA. We don't have to guess what the outcome would be."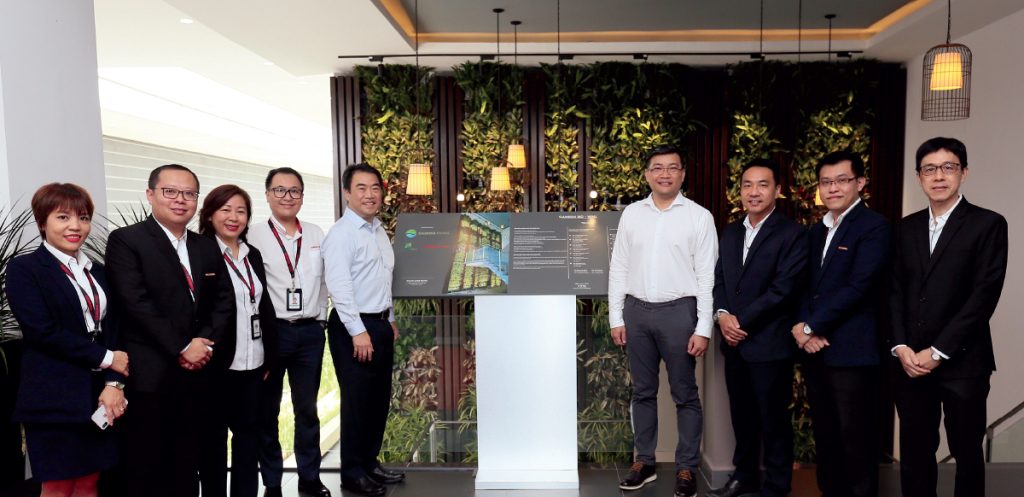 Faith and perseverance
For Ngan, faith and perseverance are important qualities to possess. "When it gets overwhelming, take it one step at a time. To do new things, people may not believe you at first, so have faith and persevere. When people start to see little successes along the way, they will start to believe."
It is the same when mentoring young staff, he adds. "We just have to trust them and empower them. They'll learn along the way while we watch. We can agree on KPIs and methodology, then see how they do it, review their performances and give suggestions to improve. There will be bumps, but that's ok, let's recover quickly, move on and try again. Young people are more willing to try, and perseverance and faith are also going to be important for them to improve."
Speaking of faith, Ngan is quite the trusting leader himself. "I do a little bit of coaching and mentoring but I normally leave it to them to do. I'm quite a trusting person and I would like to see them experience things for themselves. Sometimes, if I tell them too much, they'll worry or take it as an instruction. Sometimes, they keep coming back to me, and I don't want that. I want them to learn and experience the job for themselves.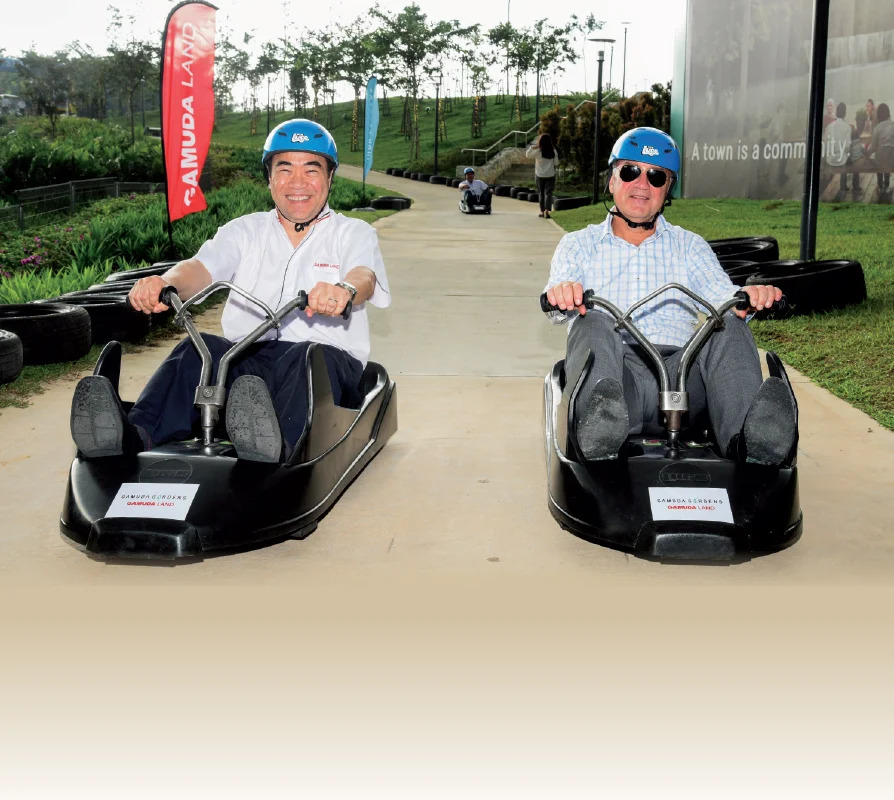 "For example, when they are far away or overseas, the best person to make the call is the person at the frontline. They are forced to make the decisions. This is why it is important to think strategically and plan well, deal with things innovatively, take responsibility and ownership of it, and deal with it.
"And they'll feel good when things are done well because they know they are the ones who did it. We are not going to be stingy with rewards or a pat on the shoulder because we are glad that they've grown and learnt. This small step of success tells us that they're on their way," he says.
It is unsurprising when Ngan, who has three children, shares that he also teaches Sunday school for youth between the ages of 13 and 15. "I see a lot of young people around us and they are the future. They want to try; they have beliefs and views and something to say. Probably what they lack is experience and the chance to try things. They will get it wrong, but they will learn, and we must allow for that."
"In this coming election, I hope that more younger people will be elected because in the next many years, they are going to be the ones (leading the way), and we better get them right now while we can," he remarks.
Servitude leadership
Ngan believes in servitude leadership. "Once you set out to work for the betterment of people, be it stakeholders, buyers, shareholders, employees, or the environment, things will turn out well. With servitude leadership, I find things become easier because the focus and objectivity are there. It's more purposeful. The rest are just consequences.
"I mean, people always talk about glory, fame and wealth. These are not sustainable; these are all consequential."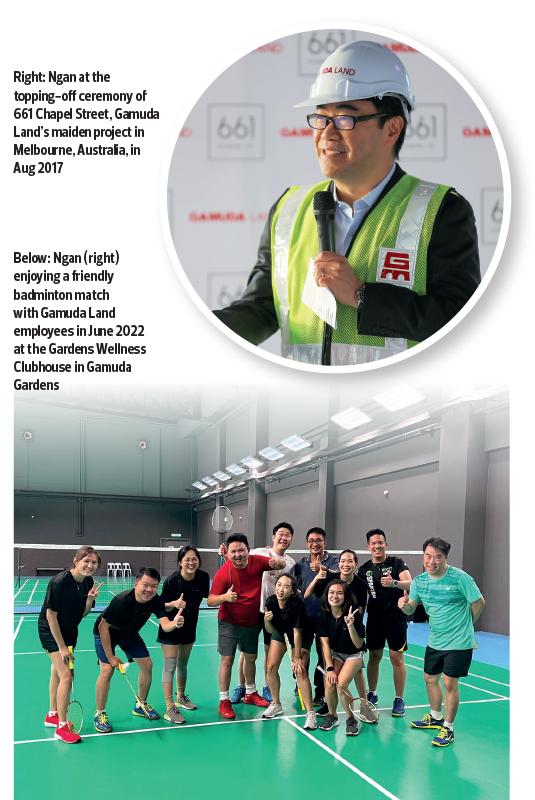 When asked about a company's keys to success, Ngan says it is determined by three things: "One is the vision. This gives you the goals, the targets, and a vision of how you want the company to look like in the coming years.
"Second is capabilities. This is where you see the need for having young, capable people and training them early in the key areas that will be crucial for them to grow further. We have to build their capabilities," he says.
The other area is the positive can-do attitude, he continues. "Young people tend to see things very positively. They want to try because they have nothing to lose. Once they feel like they can do it, they can do it again. So, this attitude is very important because they will have to go out there and deal with things on their own."
Ngan says the challenge for him as CEO today is the ability to scale up. "Now and for the next five years, developers are all facing the same situation. Let's be honest, it's a level playing field. For me, it's the ability to overcome them and scale up.
"The good thing is that I have a capable young team with a can-do attitude. I think they can scale up. We just have to duplicate what we do, do it more often and do it with more people. For example, we used to have only one to two staff in Melbourne six months ago. Today, we have 10, and they are all very good."
The other challenge, he says, is getting his team to be good, strategic and critical thinkers. "This will give them the ability to deal with things on the frontlines and take ownership of it."
No regrets
With Ngan's demanding role, juggling professional and personal responsibilities and commitments must be no easy feat. Nonetheless, he has it worked out. "It boils down to habits and discipline. You must have the habit and discipline of keeping things on schedule, including family time and commitments. Work demands and urgent ad hoc calls shouldn't be the norm but an exception. In general, we have to stick to certain habits that ensure we are healthy, have time for family and perform the best for the company.
"In my case, I exercise almost every day. I sleep at around 10pm and wake up quite early at about 4.30am. I exercise, do some meditation. I have my routine, which helps to keep my mind clear so I can deal with stuff and make good decisions."
"Having that discipline is like eating well. Who doesn't like a meal of sinful hokkien mee? But you know you cannot do this all the time. Once in a while, give yourself a treat, but it's not an everyday meal. It's not healthy."
Serving others and having purpose in life are some of Ngan's personal mantras that continue to inspire him. "The two most common regrets of people are not doing the things they want to do, probably living up to other people's expectations and not spending enough time with family and loved ones. Ultimately, I do not wish to have these regrets.
"It is also important to have purpose in life. To go out and do meaningful things. It also makes you feel good after having done something good for people and the environment. For me, it is to serve. That's why I like to meet the young ones. I want to serve them in a way that helps them grow," he concludes.