Thrilling and adventurous elements designed for community to gather and play together in Gamuda Gardens.
The natural amenities at Gamuda Gardens, from the green undulating terrain, lakes and waterfalls already make it a welcoming town for all. Now, the developer, Gamuda Land, is upping the ante by putting together a range of recreational elements and a thematic retail experience within this 810-acre town located north of Sungai Buloh.
In creating the Gamuda Gardens City Centre, the developer is crafting a work place, shopping place, learning place and play place. Dedicated to play, the elements within this 31.56-acre city centre are thoughtfully composed of indoor and outdoor play and adventure offerings.
By getting these elements right, the town will thrive. And boosted by the town's excellent accessibility, these recreational elements, once completed, will also attract visitors from the young to the young at heart. There will be more opportunities for people to gather and have fun together.
The community vibrancy is further enhanced with al fresco hilltop cafes, restaurants and retail business with a view of the huge play park, the epicentre of fun.
Listening to what the land has to tell us
By listening to the land, the developer is preserving greenery and working with nature to incorporate the play elements. Nature-lovers and thrill-seekers can look forward to Gamuda Gardens' Skyline Luge. With 600 metres of tracks, designed with twists, turns and tunnels, the Luge is a unique wheeled-gravity ride that provides riders full control over their descent on purpose-built tracks. To be built on a 30,000 sqm hill site overlooking Gamuda Gardens' panoramic greenery, five cascading lakes and two waterfalls, the Skyline Luge will offer one of the world's most exhilarating rides.
Thrill-seekers can also belt up for a panoramic coaster ride. Boasting speeds of up to 40km/h, riders will loop and curve their way around the hilly terrains, taking in scenic views along the way.
Their adventure then continues at the world's only human-powered monorail racetrack. With speeds of up to 50km/h just with leg power alone this Capsule Ride will surely attract fitness enthusiasts far and wide.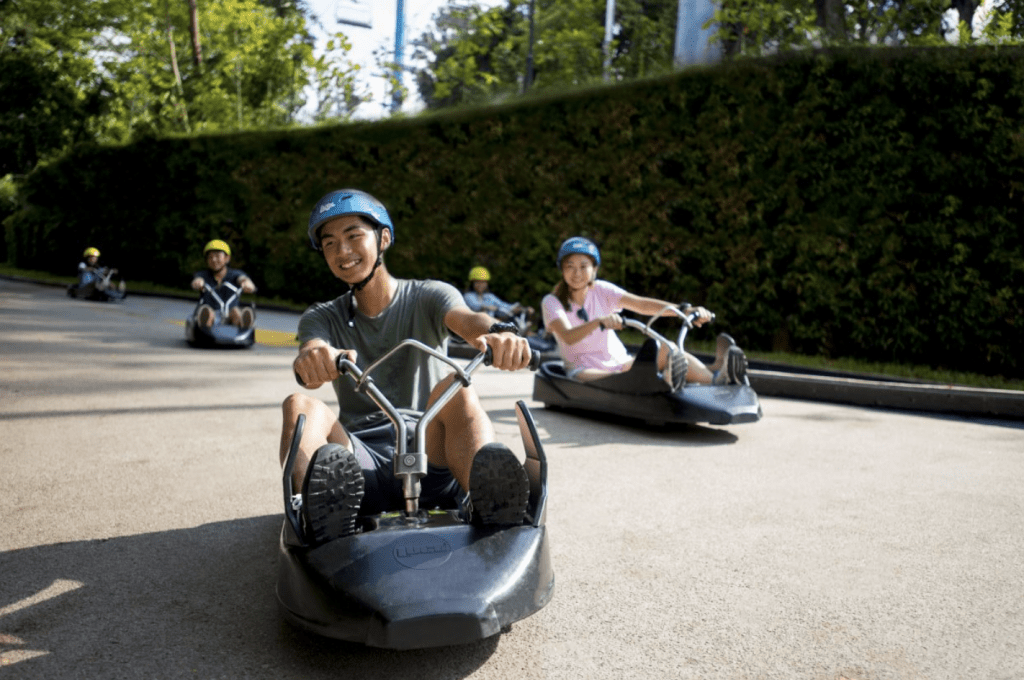 The Adventure Climbing Park, which features climbing nets and rope climbing exercises, will also pique the interest of the more athletically inclined visitors and residents. Visitors can also commune with nature. In tandem with Gamuda Land's GParks programme to instil a sense of environmental responsibility, the park will be a boon for many. A climbing park by day, at night it transforms into an illuminated forest. Like a vision from a fairy tale, the park with its illuminated treetop walkways has been thoughtfully crafted to bring people together.
For those who want to experience virtual and digital art they can interact and immerse themselves at the Digital Art Galleria. This recreational element will appeal to the more contemplative.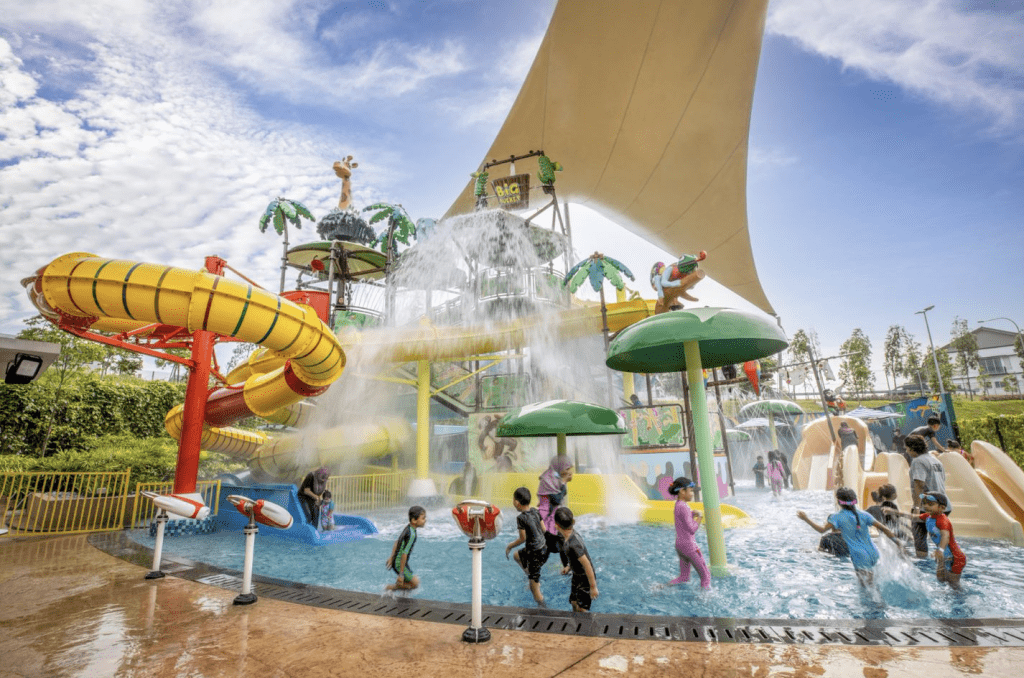 A splashing time in Gamuda Gardens
The community can also look forward to having a splashing fun time at Gamuda Gardens' indoor water park that will be completed by 2023.
But one does not have to wait until then to have a splashing good time in this town. Residents and visitors can already enjoy a respite from the heat and cool off at the rainforest-themed neighbourhood waterplay park, Big Bucket Splash. Both this waterplay park and the indoor water park in the pipeline are in sync with Gamuda Land's goal for the community to enjoy a healthy lifestyle and bond at the same time.
With towering slides, shallow pools, rain buckets, just to name a few of the exciting features, Big Bucket Splash is the place for children and adults to spend many an enjoyable hour. Opened daily from 10am to 6pm, this waterplay park is also an ideal venue for events, from children's birthday parties, hi-tea events, reunions or celebratory dinners.
Pulse of Klang Valley North
Set to be complete by 2023, the Gamuda Gardens City Centre is poised to address the recreation and entertainment gap between KL and the northern part of the Klang Valley. It will in essence be the beating heart of Klang Valley North.
Gamuda Gardens is easily accessible to all parts of the Klang Valley, and beyond. The town is also conveniently connected via the KTM Komuter and MRT Line 1. Located just one kilometre from the North-South Expressway via the Rawang Selatan interchange, and 1.5km from the LATAR and Guthrie Corridor Expressway.
Boutique apartments planned within the Gamuda Gardens City Centre will also entice many from far and wide. The town's access to various parts of the Klang Valley and beyond mean that these boutique apartments are just the spot for a staycation or some much-needed family bonding time. Designed with the comfort and enjoyment of all guests, these apartments feature state-of-the art security, pet-friendly facilities, a unique resort pool as well as excitingly themed common areas.
Highly visible especially for frequent travellers along these highways, Gamuda Gardens City Centre will be a must-visit location for all age groups. The play and adventure elements designed for all will be a magnet for all. From travellers and weekenders to families large and small, this will indeed be one the Klang Valley's most sought-after playground for all.
For more information, please visit Gamuda Gardens Experience Gallery and speak to our relationship associates. Website: gamudaland.com.my/gamudagardens, Tel: +603-2727 7438