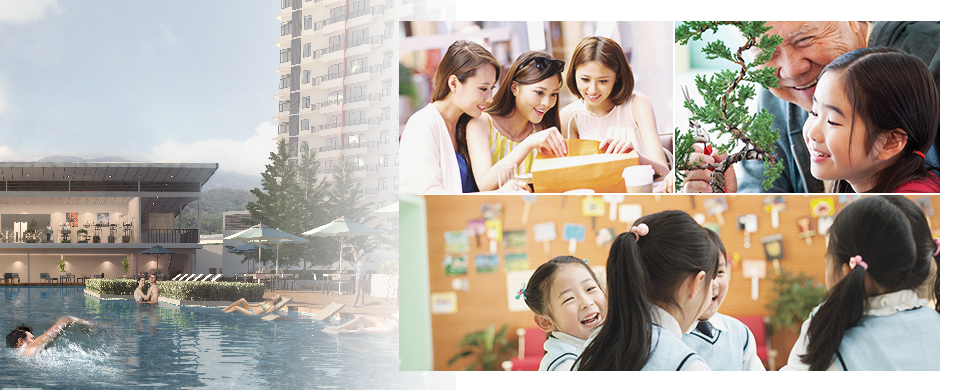 Overview
Located 12km from Kota Kinabalu city centre in Inanam, Bukit Bantayan Residences is a unique Highland retreat-inspired development. Spanning over 18 acres on a hilltop, it is gifted with a breathtaking view of its surroundings. Be captivated by the awe-inspiring scenery of the landscapes during the day and the splendid night view of Kota Kinabalu by night.
A community-centric development, Bukit Bantayan Residences offers a wide array of facilities that cater to intergenerational lifestyle needs — all sited on the highest vantage point overlooking the uninterrupted sea-facing city view or the lush mountainous landscapes.
Highland Retreat Living At Its Finest
Located at the prime destination of Inanam, Bukit Bantayan offers retreat-influenced designs nestled at a high vantage point, surrounded by beautiful mountain vistas, ocean views, and cityscapes of Kota Kinabalu.
Elevate your standards of living and enjoy spectacular panoramas right at your doorstep, and live in the land below the wind, high above the world.
Peace of Mind
Your safety and peace of mind is our top priority. With the recent events at the Ranau epicentre, we want you to feel safe with our approved seismic design; keeping you shock and worry-free.
Feel completely secure inside your home and around the communal areas with our ever watchful 24-hour monitored multi-tier security system.
Recreational and Healthy Living
Between building a better you at the gym, or relaxing in crystal clear waters, find that perfect balance of activity and leisure.
Immerse yourself in the multiple experiences a park life has to offer around an entire 18.26 acres dedicated to keeping you healthy. Lose yourself in our green landscaping, pocket park, jogging and hiking trails all meticulously crafted to provide you and your family with a complete and healthy lifestyle experience.
Multi Generation Living
Enjoy an exclusive communal area for you and your loved ones, creating a harmonious and amicable environment, making your home exclusive, yet exclusive all at the same time.
With dual-key units, 3 bedrooms, and a vast spacious interior, have both family and privacy right at home.
Convenience Within Reach
Have everything you ever needed right outside your home. Enjoy a plethora of commercial and retail conveniences without having to ever travel too far from home.
Live life to the fullest every day with a wide variety of retail shops, alfresco dining options, personal salons, and even childcare services, right at your doorstep.