As the country is under the full movement control order to curb the spread of Covid-19, Gamuda Land is doing its part to bolster the national housing agenda.
The property developer has introduced its Booster Shot campaign that offers a range of financial assistance solutions and incentives for Malaysian home seekers.
The campaign allows potential home buyers to personalise their property packages – mixing and matching available incentives according to individual needs.
Booster Shot is available for more than 250 properties across Gamuda Land's portfolio nationwide.
"We recognise the impact of lockdown restrictions on livelihoods in Malaysia and the home ownership aspirations of Malaysians everywhere, " said Gamuda Land chief operating officer Aw Sei Cheh.
"With this in mind, and acknowledging that shelter is a basic human need and fundamental component of national growth, we are doing our part to help home seekers achieve their dream to own a place they can call their own, even in these challenging times."
The Gamuda Land Booster Shot comprises financial assistance solutions addressing differential sum and monthly instalment payments, along with incentives such as furnishing packages, and complimentary memorandum of transfer, sale and purchase agreement and home loan legal fees in conjunction with the national Home Ownership Campaign.
It also offers rent-to-own packages for selected units through Home Convert, in partnership with Maybank's HouzKEY programme. Under the scheme, home seekers can move into a Gamuda Land property immediately, with the option to purchase the unit at a predetermined price after five years.
"Gamuda Land Booster Shot directly addresses home seekers' needs by offering financial flexibility, help with obtaining bank loans and assistance in bridging differential sum payments. With this, our customers enjoy a versatile and customisable suite of financial assistance solutions depending on their needs, " said Aw.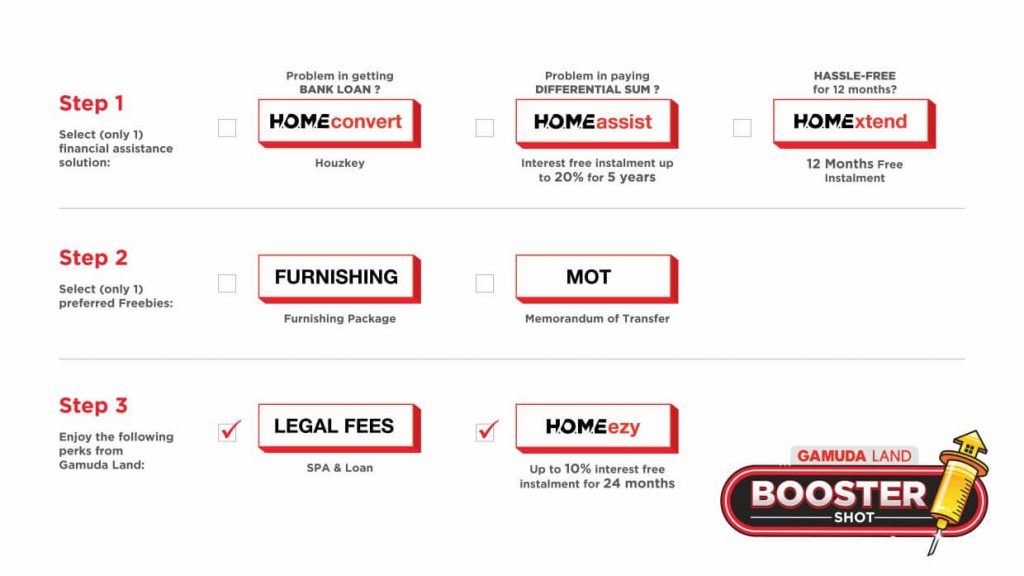 In addition to Home Convert, the campaign offers two financial assistance routes – Home Assist with interest-free home loan instalments over five years for up to 20% of the property price, and Home Extend with free home loan instalments over a year.
Gamuda Land Booster Shot applicants can opt for either Home Convert, Home Assist or Home Extend according to their needs.
In addition, they can choose between a complimentary furnishing package or free memorandum of transfer fee to sweeten the deal.
All Gamuda Land Booster Shot applicants can enjoy complimentary legal fees for their sale and purchase agreement and home loan, as well as interest-free home loan instalments over two years for up to 10% of the property price, under the Home Ezy programme.
Booster Shot applicants can choose from a flexible range of financial assistance solutions and incentives.
The first 50 buyers to sign a sale and purchase agreement under the Booster Shot campaign will also receive a complimentary electrical/furnishing voucher worth RM3,000.
With Malaysians prioritising digital channels due to ongoing movement restrictions, home seekers can learn more about the Gamuda Land Booster Shot campaign and apply for it via Gamuda Land's online platforms, including GL Online Property Deals and the Gamuda Land Virtual Experience Gallery.
These platforms allow users to select and book their preferred units directly, with relationship associates and relationship managers on hand to address any queries.
Participating Gamuda Land projects include Gamuda Cove, Gamuda Gardens, twentyfive.7, Jade Hills, HighPark Suites and Kundang Estates in the Klang Valley; Horizon Hills in Johor; and Bukit Bantayan Residences in Sabah.
The campaign runs until Aug 31 2021, or while stocks last.