No. 2 | Gamuda Bhd - Property Division
| | 2022 | 2021 |
| --- | --- | --- |
| Overall | 2 | 3 |
| Quantitative | 2 | 5 |
| Qualitative | 3 | 4 |
We sit down with the exuberant new chief operating officer of Gamuda Land, Chu Wai Lune, at a contemporary lakeside bungalow show house overlooking a scenic 50-acre central park and lake. The house is an example of the Monarc @ Gamuda Gardens Esteem, one of the latest offerings at Gamuda Gardens, featuring luxury bungalows and semi-detached homes. "All 16 bungalows are already sold out while 50% of the total 78 units of semidees are taken up. This project was launched around mid-year," he says.
The good take-up rates across Gamuda Land's projects have contributed to the company's
record-high property sales of RM4 billion for FY2022 ended July 31. "The main highlight for us this year would be the financial performance. We achieved a 40% increase in sales compared with RM2.9 billion in FY2021.
"In terms of revenue, we have hit an all-time high of RM2.7 billion in FY2022 versus FY2021's RM1.3 billion, a jump of 111%. For our earnings, we achieved an all-time high of RM340 million, up 97% from RM172 million previously. In short, our performance was much better compared with the previous year," he says.
Steadily climbing the ranks of the Top Property Developers Awards, the property division of Gamuda Bhd has an ambitious five-year target to hit the RM8 billion mark in annual property sales. As part of its strategy, it has been busy expanding its international portfolio which currently accounts for half of its property sales.
"In Vietnam, we have a new project in Binh Duong New City, north of Ho Chi Minh City; in Australia, we have our second high-rise development, The Canopy on Normanby, in Melbourne; and in the UK, we have another two acquisitions, in Aldgate and West Hampstead in London," Chu says.
In addition, Gamuda Land continues to remain steadfast on its key agenda, which is sustainability, while rolling out new projects at its ongoing master-planned townships in the country: Gamuda Cove, Gamuda Gardens and twentyfive.7 in Selangor; and Horizon Hills in Johor.
"Notably, Gamuda Cove's master plan design has received a 5-diamond recognition at the Low Carbon City 2030 Challenge in March this year. It is the first private township to receive this recognition from the Environment and Water Ministry in collaboration with the Malaysian Green Technology Climate Change Centre," Chu says. The township was designed to achieve a 45% overall reduction in carbon emissions compared to normal designs.
Chu shares updates and plans on the company's sustainability agenda as well as its ongoing and upcoming projects, both locally and abroad.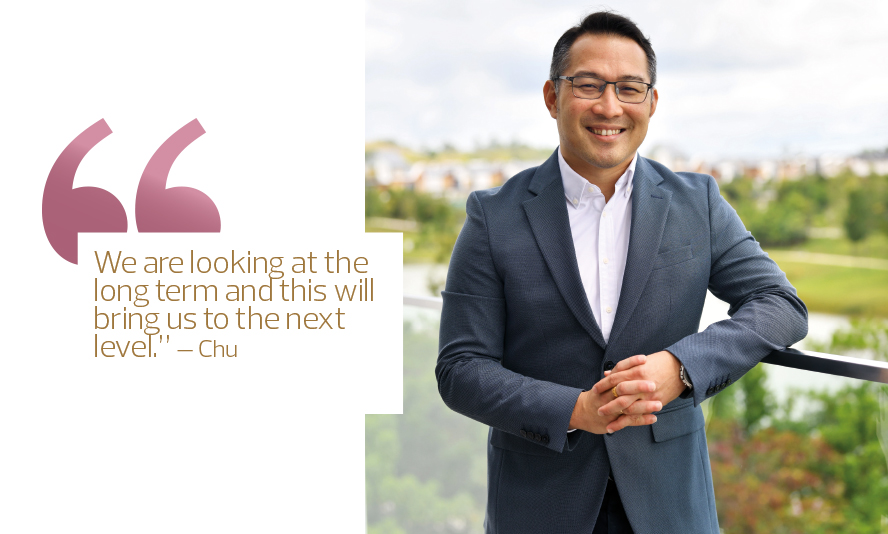 City & Country: What key plans has the company implemented over the past 12 months?
Chu Wai Lune: The key agenda for Gamuda has been our sustainability goals. We have installed more than 1,598kWp of solar power for our offices, project sites and assets. This is part of our sustainability goals to reduce 30% of direct and indirect corporate greenhouse gas emissions by 2025 and 45% by 2030.
In terms of our green transport mobility plans, we have installed 10 EV charging stations and introduced e-buggy and e-scooters across our township developments, as well as an e-tram in Gamuda Cove, which is expected to be running by early next year.
For our initiative to plant one million trees by 2030, we have planted over 300,000 trees to date across our developments. On top of that, we have another 600,000 trees and saplings at our advanced tree planting nurseries located at Kundang Estates, Gamuda Gardens and Gamuda Cove.
On top of the seven biodiversity audits that we have completed previously, we have initiated another three in our existing projects, namely Kota Kemuning, Bandar Botanic and twentyfive.7.
As for product design, we have embarked on a more universal concept of biophilia across our developments. All our new products will have layouts and designs to capitalise on natural light and ventilation, use natural materials, have better spatial quality, and be close to green spaces that connect homes to our placemaking and commercial places.
We have started strategic land acquisitions overseas, specifically across Vietnam, Australia, the UK and Singapore, in line with our target to launch an average of five new overseas projects per year from FY2023, with a total gross development value (GDV) of RM4 billion derived from these projects in our fifth year.
In terms of talent management, we continue to identify good talent and move them up the value chain as part of our development and succession planning. We now have a good balance of experienced and young talent in various portfolios. In the last year, the management has appointed several young leaders in their 30s to fill at least half of the board seats and executive positions across Gamuda Land. We are looking at the long term and this will bring us to the next level.
What is the group's plans to deal with rising inflation and material costs amid the spectre of a global recession?
The construction cost escalation comes from two major components: labour and material. Our solution lies in the digitalisation of the industrialised building system (IBS), which helps us reduce labour by 65%, expedite construction time by 30% and reduce waste as these are all calculated through building information modelling (BIM). All these help us reduce our construction costs.
On top of that, Gamuda Land has always been focused on mindful masterplanning, which has added value to our properties. For example, the prices of homes in Gamuda Garden's Phase 1 have already increased by 20% on the subsale market.
On top of that, we have partnered with Public Bank to provide green financing for our customers which includes favourable pricing, fast lane approvals and a financing option for our customers to purchase eco-friendly and energy-efficient appliances, fixtures and fittings.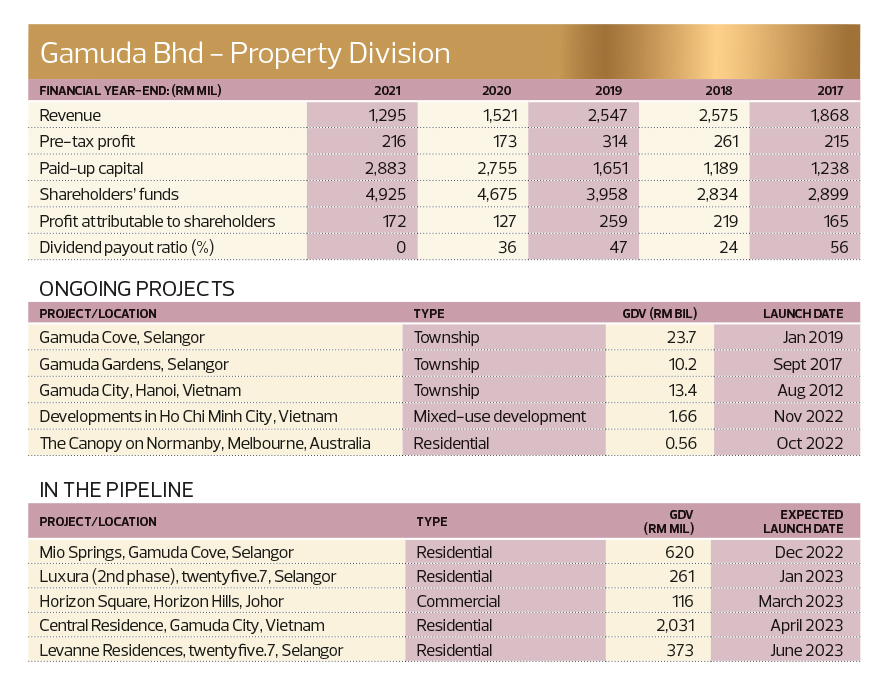 What is your outlook for the property market next year?
Property investment will remain a good hedge against inflation so we expect the property market to remain stable. Malaysia has a young and growing population with a median age of about 30 years old so we expect good demand for well-planned developments where people can anticipate value creation.
Based on our data, there's a strong preference for landed properties located within well-planned townships with good accessibility, lush greenery and good amenities. In terms of foreign currencies, it would be enticing for foreign buyers to invest in Malaysian property.
Please share updates on ongoing and upcoming projects, both locally and internationally.
At Gamuda Cove, we are aiming to hand over the first phase, Palma Sands, comprising 490 units of landed terraced homes, by 1Q2023. The 60-acre pet-friendly central park Discovery Park and the Paya Indah Discovery Wetlands are completed and operational. In between the wetlands and Gamuda Cove, a wetlands arboretum within a 90-acre forest park is currently underway and targeted for completion in mid-2023. We are targeting the opening of the water theme park Splashmania in January next year. We have also launched our Townsquare commercial project, which is expected to be completed by 2024. We have an upcoming 290-room lakeside hotel that is underway and targeted for operation in 2025. Meanwhile, we are working to complete the ecosystem by bringing in key components such as education, healthcare, offices and a regional mall.
Over at Gamuda Gardens, which is about 30% complete with an average uptake of more than 90%, we have completed the 50-acre central park and activated the park with activities like horse riding, solar express train rides, carousel rides, doughnut boat rides and more. We are also targeting to open the Luge Activity Park and the Gardens Square retail hub by the end of 2023. We are now working on our new luxury precinct Gardens Esteem. Our next focus is the 50-acre commercial development next to the North South Expressway which will feature an integrated retail, leisure and commerce park.
At twentyfive.7, we have handed over 279 units of superlink and semidee homes in Lucent Residence as well as 596 units of serviced apartments in Amber Residence. We are targeting to deliver Luxura (Phase 2A) designer villas in 2023 and planning to launch Phase 2B, comprising designer courtyard and link villas, by year's end. We are working on bringing in healthcare and education components.
As for our overseas projects, our most recent acquisition is the 13.8-acre site in Binh Duong New City, Vietnam, which we have named Artisan Park. We have very recently entered into another deal in Ho Chi Minh City, subject to certain conditions being fulfilled. We are also looking for more opportunities in Vietnam. We have completed all our projects in Celadon City in Ho Chi Minh City and are currently working on completing the entire township. In Hanoi, we are working on Gamuda City Central, where the next launch would be a serviced apartment overlooking Yen So Park and a regional shopping mall.
In Australia, we have just launched The Canopy on Normanby, Melbourne. So far, we have garnered close to RM50 million (AU$15 million) in sales interest. We are looking at another site in St Kilda, Melbourne, for our next development.
In London, UK, our project in West Hampstead was launched in October and is currently 30% sold. We are in the midst of planning for the Aldgate site.
In Singapore, we are working on our second development OLÁ, a 548-unit condominium in Sengkang that is fully sold and that we are targeting to complete by next year.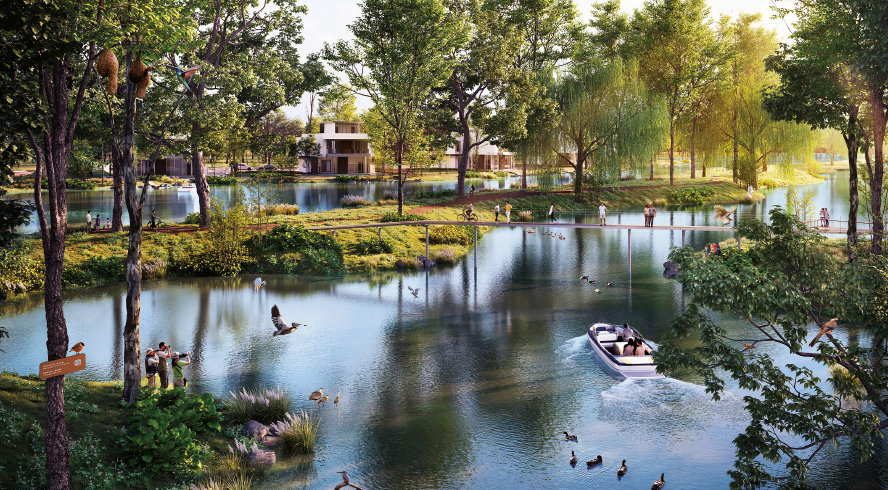 What are Gamuda Land's sustainability plans ?
We have the Gamuda Green Plan framework with specific steps to reduce carbon emissions, address climate change and work on social development in the next five to 10 years. It has tangible targets and timelines based on four main pillars: sustainable design, community, environmental and biodiversity conservation, and enhancing sustainability via digitalisation.
We believe carbon emissions reduction must start from the design stage. For example, all our homes are designed to be within five to 10 minutes' walking distance of the green areas and our central park is designed to connect the homes. We also design based on a biophilic concept.
For the second pillar, we are working closely to enrich the Orang Asli community through a wild tree seed bank funded by Binturong Alam Ventures and by operating a café in Gamuda Cove that will feature native cuisine. We have also adopted SK (Asli) Bukit Cheding, located next to Gamuda Cove.
Our Yayasan Gamuda works through Enabling Academy which works to sustainably employ adults on the autism spectrum as well as the annual Gamuda Scholarship programme whose contribution this year went up to RM13 million from RM3.9 million the previous year.
Gamuda has also reviewed and increased its staff and workers' wage levels to ensure that its entry level offers are competitive and within the top quartile of the industry.
For our third pillar, we have the Gamuda Parks initiatives which focus on planting one million trees, biodiversity audits, native tree selection, Miyawaki planting, tree tagging and self-cleansing lakes that use 100% recycled water. The initiative also works through GParks Rangers and the wetlands arboretum for education and raising awareness.
The fourth pillar is where IBS, BIM and the digitalisation of all our internal processes will take place. BIM and IBS are already operational, whereas the digitalisation of our internal processes is being completed in phases.