Kota Kemuning received a significant boost with the opening of Quayside Mall in December 2020, as it quickly became a new landmark in the area. Developed and managed by Gamuda Land, the property arm of Gamuda Bhd, Quayside Mall offers a unique new retail offering for residents and visitors alike.
It earned a Special Mention in the Below 10 Years Retail - Non-strata category.
Occupying 6.36 acres, Quayside Mall is complemented by 2-storey outdoor shops and connected to a 10-storey office block called Quay Tower. It is one of the components that make up the 257-acre twentyfive.7 township development, which also comprises residential properties.
The 4-storey Quayside Mall comprises 107 retail shops and 19 kiosks and has 305,615 sq ft of net lettable area. Its anchor tenants are Jaya Grocer and MBO Cinemas while Harvey Norman and Good2U Outlet Store are the mini anchor tenants. F&B outlets there include Ying Ker Lou, Uncle Don's, Rakuzen and Starbucks. The mall is also home to Quay Hall, a 12,960 sq ft event space that can accommodate up to 1,000 pax.
Focused on sustainability
To ensure adequate indoor air quality (IAQ), Gamuda Land commercial real estate executive director Larissa Chan says that all 31 air-handling units within the mall are equipped with ultraviolet germicidal irradiation (UVGI) lighting. "The UVGI system is a disinfection method that uses shorter wavelengths than the more penetrating UV-A and UV-B rays and poses less risk to human health. It is able to eliminate or inactivate microorganisms such as bacteria and viruses, which ensures a safer space for everyone.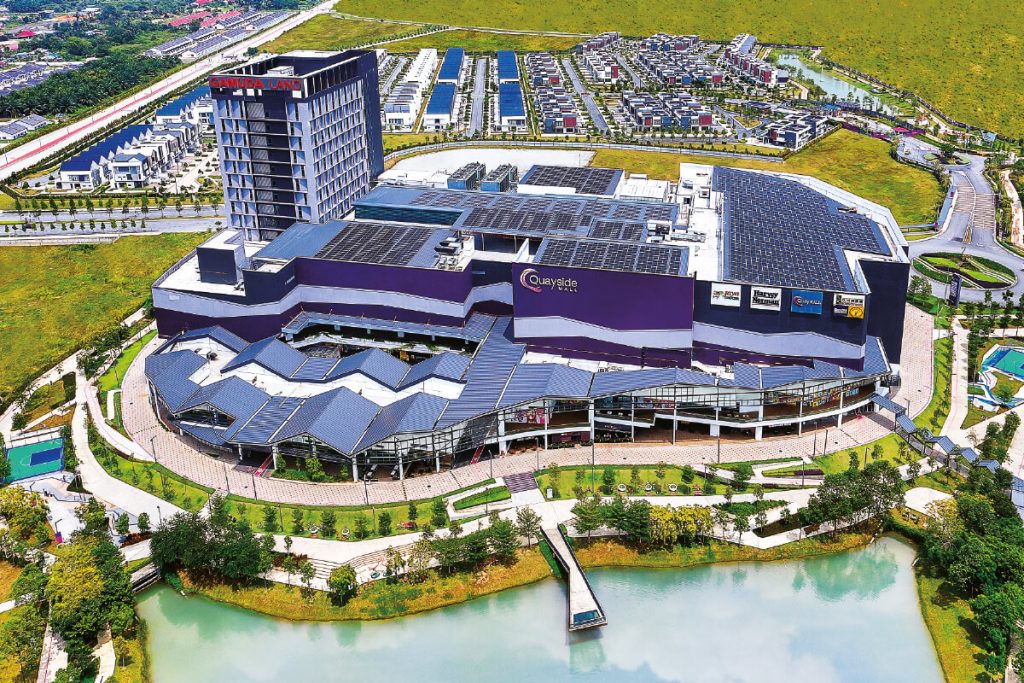 "We conducted in-house lab tests in 2021 and another in early 2022 prior to the installation and the results showed that the IAQ was good. We shall continue to maintain this system to ensure its effectiveness through regular checks via our in-house lab tests," she explains.
She says the mall is unique as it has a "more green" design, with a lot of plants placed in the indoor and semi-outdoor common areas. "These plants act as natural purifiers by absorbing harmful chemicals and, ultimately, making tenants and patrons healthier. This is also related to our recent biophilic design, whereby the concept is implemented to increase occupant connectivity to the natural environment through the use of direct nature, indirect nature and space and place conditions, says Chan.
Gamuda Land has also installed indoor portable air purifiers that come with high-efficiency particulate absorbing (Hepa) filters.
The company believes that proper food waste management plays an important role in reducing waste disposal expenses and landfill waste. The mall has a food-waste composting machine located in the wet refuse chamber at one of the loading bays. The machine turns 500 litres of waste into 100kg of compost in 24 hours.
"We started this initiative in February this year and on average, about 670kg of food waste is collected weekly. As at end-June, a total of 1,120kg of compost had been generated. After the compost is generated, it can be used as fertiliser for the township's landscaping to boost soil fertility.
"This initiative also saves about RM1,900 monthly in transport cost as fewer trips are required to send the garbage. So far, Jaya Grocer and a few F&B tenants are participating in this initiative. To encourage more F&B tenants to participate, we intend to incentivise them by getting in some green funds," Chan says.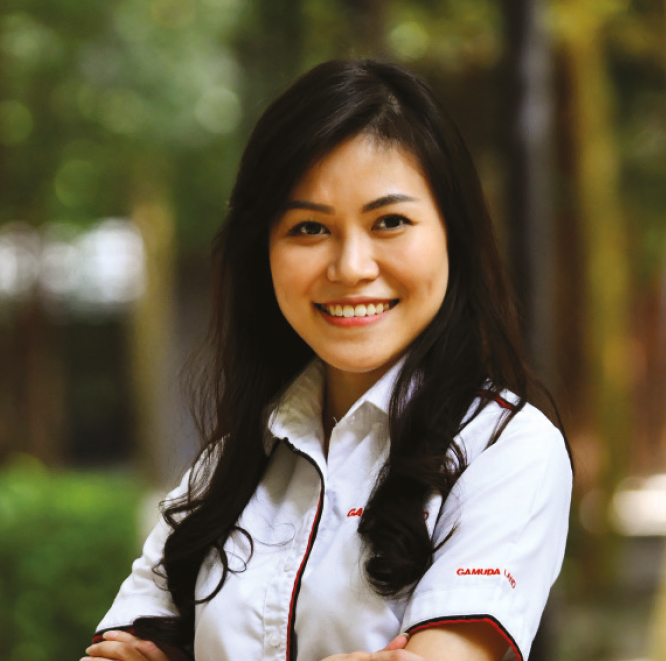 Choosing the right tenant mix
Gamuda Land has maintained an average service charge collection of over 88%, with an average debtor turnover of eight days. Currently, the service charge is RM2.30 psf.
The management has a standard operating procedure in collecting service charges, including sending payment invoices, reminder calls as well as weekly visits to ensure owners are aware of the payment due date.
Quayside Mall is currently 91% occupied. "For the remaining 9% leftover space, we are quite selective on the tenant trade mix as we intend to fill up the gaps of the trades that are still missing. We are looking to bring in children-related offerings, lifestyle and entertainment trades, or even more F&B businesses. We want to create a neighbourhood mall where people in Kota Kemuning will not have to travel to other malls," Chan says.

As the country enters the endemic phase of Covid-19, Chan says the footfall at Quayside Mall has improved, with an average footfall of 450,000 monthly. This is 20% higher than what had been targeted for this year.
"The mall was designed as a hybrid mall comprising indoor and semi-outdoor areas to cater for the needs of consumers in the post-pandemic era. Most of the essential services and F&B businesses are in the semi-outdoor area, which has good ventilation and is a right choice for the retail recovery post lockdown," she notes.
To increase the mall's footfall in the future, Chan says capitalising on placemaking initiatives is important. "Quayside Mall is near The Buzz.ar, an open-event platform that comprises bicycle rental and pet grooming services.
"Both The Buzz.ar and Quayside Mall are also connected to The Loop — a 7km network of pet- and wheelchair-friendly walkways — designed to foster sustainable mobility throughout the township while reducing the carbon footprint," says Chan.
She notes that the mall uses energy-saving LED lights to ensure optimum energy efficiency in the long run.
Solar photovoltaic (PV) systems were also installed, covering 61,418 sq ft or 53% of the mall's roof area. "They are expected to generate savings of up to RM560,968 yearly based on the mall's current usage and are able to offset 15% of the mall's consumption of conventional energy. The system requires very little maintenance. It just needs to be cleaned yearly as dust can get stuck on [the panels] and may affect their effectiveness," says Chan.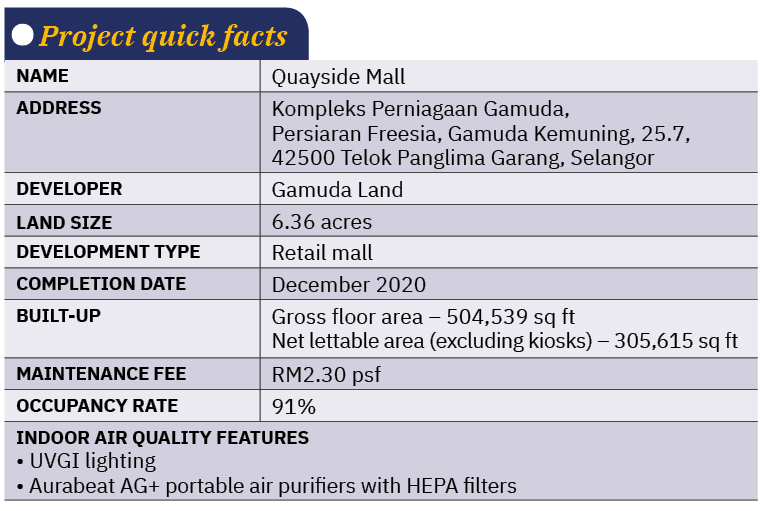 Pressing ahead
Chan says the main challenge was to sustain the occupancy rate during Covid-19. Rental rebates of between 30% and 50% were provided to some of the tenants and those who had cash flow problems could pay by instalments.
"The rental rebate was offered from May to October 2021, and the percentage was determined based on their trade, whether they are essential or non-essential services, whether they were allowed to operate during the lockdowns and how their sales were affected," she explains.
To better manage the mall moving forward, Chan says there will be a renewal of tenancies in 2023 and the management will look at ways to improve the tenant mix, review tenants that are not doing very well and bring in new offerings in line with the needs of consumers.
"In the immediate term, we are looking to bring in a gymnasium and family karaoke to complement our [existing facilities]. We also plan to set up complimentary bicycle amenities and repair stations, which is expected to serve as a bike hub for the neighbouring community and encourage more people to cycle to the mall," she adds.