A stroll in the scenic 810-acre township of Gamuda Gardens in Rawang, Selangor, is both soothing and experiential. Surrounded by the hilly terrain of Klang Valley North that includes cascading waterfalls, the township is rich with biodiversity, with many types of flora and fauna documented there: 96 plants, 48 birds, 11 mammals, eight reptiles and 14 insects (which includes four fauna and two flora species of conservation importance).
By showcasing green and sustainable qualities that are part of Gamuda Land's DNA and offering a host of socioeconomic benefits, Gamuda Gardens ticked all the boxes and qualified as one of the winners of the Property Development Excellence Award at The Edge Malaysia Property Excellence Awards 2021.
The award recognises successful large property developments that have made a significant impact and become a catalyst for growth while contributing positively to the vibrance of an area.
Gamuda Land chief operating officer Aw Sei Cheh gives City & Country an update on the township in a virtual interview. Due for completion in 2030, about 190 acres of Gamuda Gardens have been developed. "The current overall take-up rate for our ongoing projects there is about 80%," says Aw.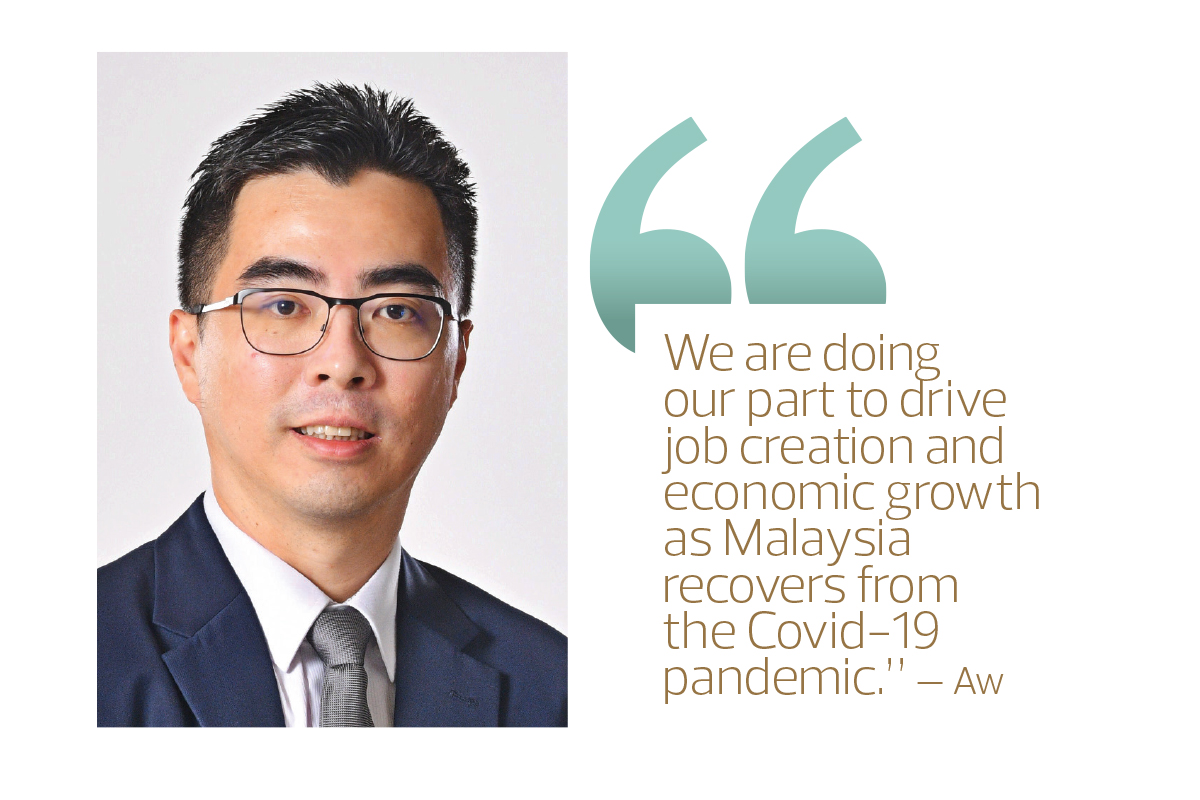 Gamuda Gardens has a gross development value (GDV) of RM10 billion. There are five phases comprising 6,000 units, including high-rise units.
Village Homes, which was handed over in October, is projected to be half occupied by year end.
In January this year, the company launched The Waterfront Village, a lifestyle retail hub facing the 50-acre pet-friendly Central Park, with conveniences such as a grocer and dining options.
This month, it is launching Gardens Square, "a vibrant commercial hub that emphasises climate-responsive features, pedestrian-friendly and car-free streets, spaces for healthy alfresco community building in the new normal and electric-vehicle charging stations, with photovoltaic (PV) panels providing renewable energy for operational needs", says Aw.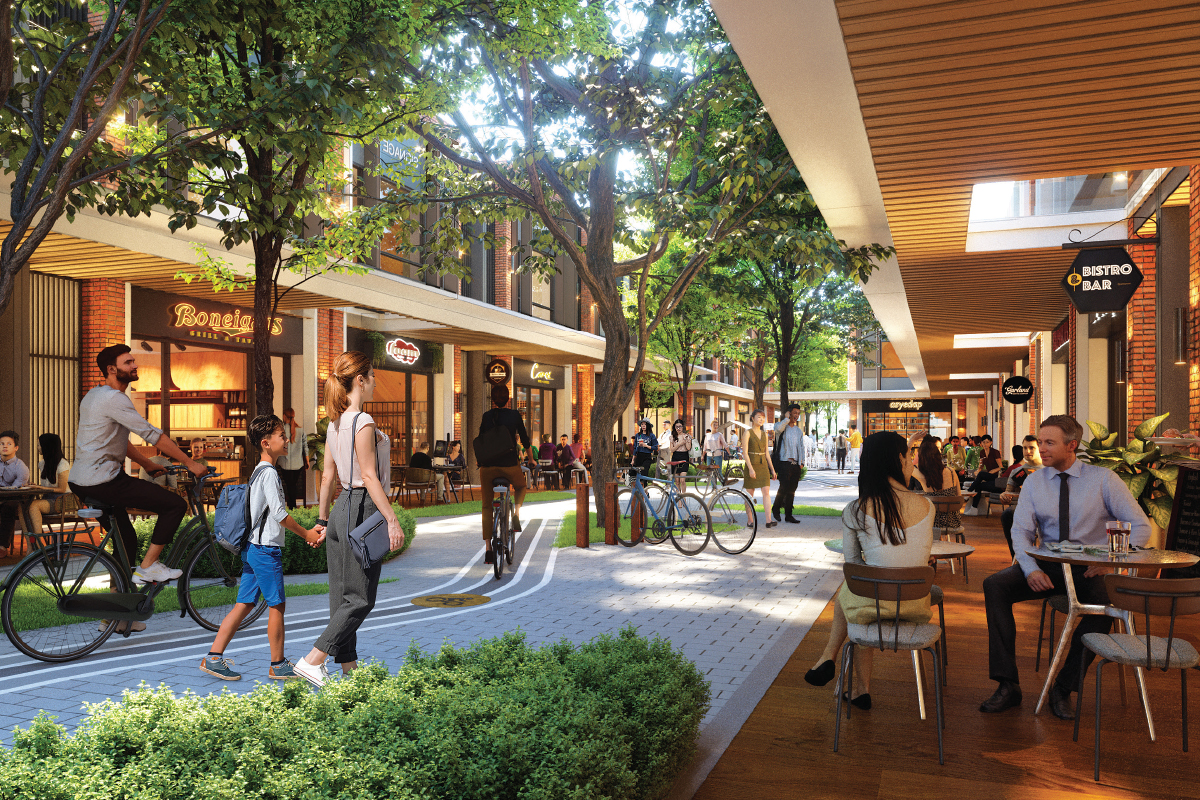 Gardens Square will comprise 133 units of 2- and 3-storey offices and shoplots, with built-ups from 666 to 6,737 sq ft and land sizes from 22ft by 43ft.
"We have signed a memorandum of understanding with a well-known grocer and drive-through fast food franchise as anchor tenants, which we will announce soon," he says, adding that the grocer will occupy 20,000 sq ft of Gardens Square.
Meanwhile, Jovita and Joya, comprising 429 double-storey link, superlink and semi-detached homes, will be completed in 2022, as will Gaia Residences, the township's serviced apartments built using Gamuda's Digital Industrialised Building System.
"Illaria, our hillside homes designed for post-pandemic needs, has seen an 90% take-up to date, with targeted completion and handover by 2023," says Aw.
Another notable upcoming phase is Monarc, which will comprise 16 bungalows and 78 semi-detached units with prices from RM1.6 million for semi-detached units. The built-ups are from 6,000 to 6,300 sq ft (with 5+1 bedrooms) and land sizes from 36ft by 80ft. Targeted to be launched in the first half of 2022 and completed by 2025, Monarc is the debut offering in Gardens Esteem, the first luxury precinct in Gamuda Gardens with lake-fronting bungalows.
Aw highlights the township's target market and catchment areas. "Gamuda Gardens will cater for the higher end of the market, specifically high-income and upper-middle-income purchasers, comprising owner-occupiers and upgraders from Kuala Lumpur and Petaling Jaya.
"Earlier phases catered for the middle-income group, with bread-and-butter products, as well as Rumah Selangorku housing for those in the lower-income bracket."
According to Aw, the residents' feedback has been encouraging. "We do try to stay in touch with them via our mobile app, GL Lifestyle, and so far, they are mostly happy with their purchase. In the event that they encounter any issues, we try to be hands-on in solving the issues."
Socioeconomic benefits
The developer is targeting a population of 340,000 for Gamuda Gardens by 2023. "This is complemented by surrounding communities such as Bandar Tasik Puteri and Rawang, which are driving economic and population growth. The burgeoning residential demographics of the Klang Valley's northern development corridor present commercial opportunities for business operators and entrepreneurs," says Aw.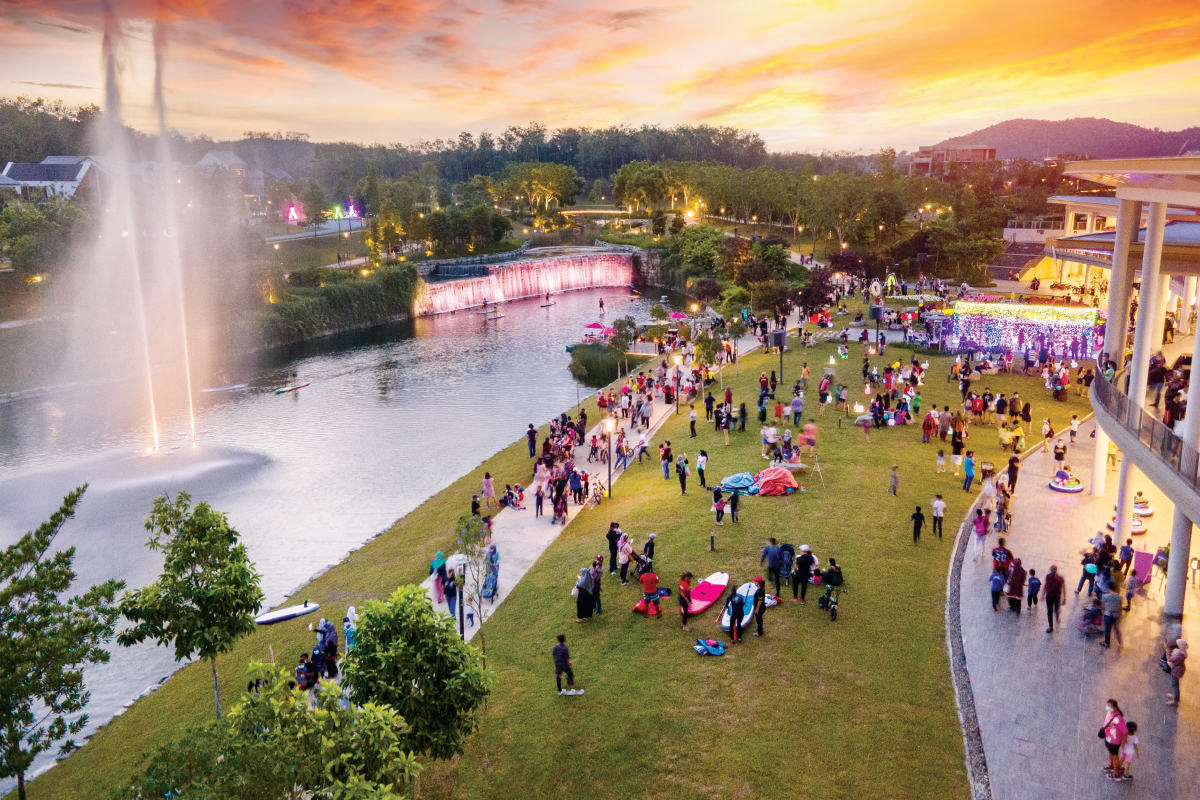 Gamuda Land is leveraging the launch of Gardens Square, built for sustainability from the ground up, to enhance the commercial vibrance of the township and surrounding community. "We are doing our part to drive job creation and economic growth as Malaysia recovers from the Covid-19 pandemic," he says.
"We are also driving sustainable growth and price appreciation with a range of vibrant placemaking activities that position Gamuda Gardens as the 'Pulse of Klang Valley North'."
This will bring together diverse entertainment and lifestyle amenities such as Malaysia's first luge theme park, Skyline Luge, which will cater for 1.1 million rides annually; Curve Ziplines; enhanced Big Bucket Splash water play park for families; lifestyle retail; and GParks Nature School, all of which are expected to materialise from 2023, he adds.
These initiatives are part of Gamuda Garden's Adventure hub (31.88 acres) and Work & Wellness hub (18.07 acres).
There are a number of sustainable features that the developer deems as distinctive and have contributed to Gamuda Gardens' success. One of them is the Central Park, which was transformed "from a monocultural rubber plantation into a biodiverse parkland" by Gamuda Parks, the developer's initiative that manages the implementation of natural elements across its townships, says Aw.
Gamuda Parks has brought in 22 species of conservation importance and planted more than 5,000 trees in the Central Park alone, he adds.
The developer is planting #OneMillionTrees across its townships and communities by 2023. "To date, more than 25,900 trees have been planted in Gamuda Gardens. We ensure our planting efforts are sustainable through the use of advanced tree planting in nurseries located on our site, where seedlings are grown ahead of time for planting, enhancing their viability," says Aw.
"By planting with the Miyawaki technique, we produce dense urban forests by encouraging healthy competition and reproducing forest canopy and ground layers in our ecosystems," he adds, referring to the quick afforestation method developed by Japanese botanist Akira Miyawaki in the 1980s.
There are also solar PV panels with a capacity of 310kWp built into Gamuda Gardens' sales gallery and badminton hall. "This renewable energy is utilised in the Central Park's fountain and waterfall, with excess electricity going to the sales gallery," says Aw.
Distinctive, sustainable qualities
Another green element is sustainable mobility for resilient community building while reducing the community's carbon footprint, which includes a 5.5km loop for jogging, walking and cycling and interconnected walkways to facilitate access to residential spaces.
"We are mindful of placemaking, with everything within reach to reduce transport emissions while maximising convenience for homeowners and residents. We also integrate permeable pathways throughout Gamuda Gardens [and Gamuda Land townships] to reduce emissions from concrete use while managing surface runoff," says Aw.
"The Gamuda Green Plan 2025 itself was launched on World Environment Day, June 5, 2021, as a comprehensive group-wide framework that charts tangible targets for Gamuda Group in terms of environmental, social and governance (ESG) dimensions over the next five years."
He notes Gamuda Gardens' noteworthy level of accessibility. "Every place is centrally located with interconnectivity in the township's masterplan while encouraging sustainable modes of transport such as biking, walking and shuttle services, maximising convenience for homeowners and residents, while reducing our carbon footprint and driving value creation.
Another highlight of the township is Gardens Wellness, a one-stop fitness hub with an Olympic-length swimming pool, badminton courts and a dance studio, among others.
Growth and plans
Gamuda Land intends to position Gamuda Gardens as the elevating feature of Klang Valley North, distinguishing it from the surrounding offerings through an emphasis on premium products. The launch of Gardens Esteem, one of the luxury precincts in Gamuda Gardens, as well as Monarc, its debut offering comprising 94 bungalows and semi-detached homes, is the first step.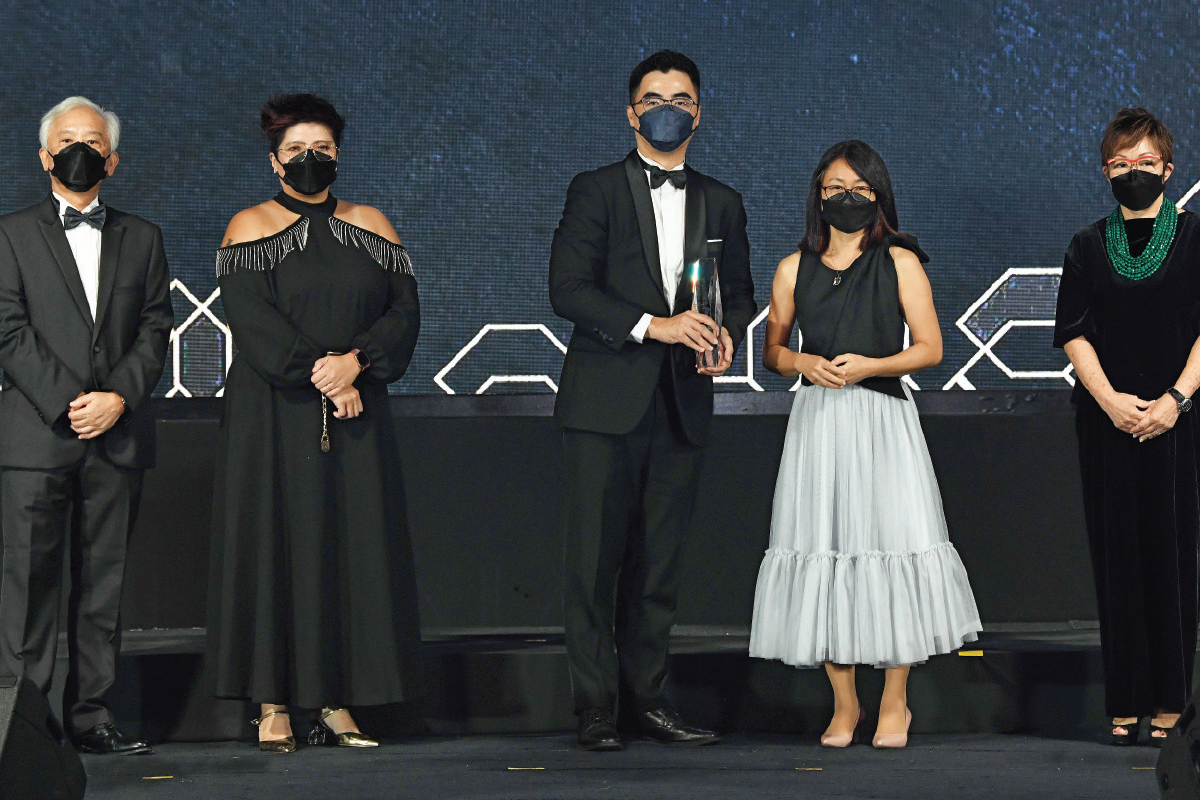 "We are launching the Gardens Esteem Lounge specifically to cater for high-net-worth individuals, along with the launch of Monarc in 2022. We are confident of this positioning despite recent market impacts, as our sales have stabilised to nearly pre-pandemic levels. In addition, the purchasing habits of the high-net-worth group show less vulnerability to large market fluctuations," says Aw.
He adds that the Covid-19 pandemic has given Gamuda Land the opportunity to review and reset its five-year business plan, with an eye on diversification. It is targeting a compound annual growth rate of at least 20% in sales and earnings and will continue to diversify its portfolio with high-value, low-risk acquisitions and projects overseas.
"Following more than a year of lockdown, we are optimistic about the outlook for the property market as the vaccination rate increases, economic activities resume and borders reopen. We aim to roll out more products with attainable price points in the township," says Aw, noting that 95.4% of the adult population in Malaysia have been vaccinated.
"As with all our townships and vertical communities, Gamuda Gardens delivers on our brand promise as a sincere, responsible and original town-maker, with a focus on crafting places that people will call home, want to be a part of and can grow up and grow old in," he says.