Bringing its recognised brand of mindful placemaking to Klang Valley North, Gamuda Land has launched Gardens Square, the first commercial offering for sale in Gamuda Gardens. Crafted in balance with nature and the community, Gardens Square's pedestrian-friendly boulevards and al fresco spaces complement the township's residential and lifestyle components, positioning Gamuda Gardens as an emerging hotspot in the northern corridor.
Its bustling growth is driven by a thoughtfully designed masterplan, with the play place, park place, work place, shopping and eating place within easy reach for residents and visitors, as well as a vibrant array of placemaking initiatives under the Xploria banner catalysing footfall and creating value for its residents and surrounding communities.
Commercial vibrancy close at hand
"With a projected population of 340,000 within a 15-minute drive by 2023, Gamuda Gardens is set to be the pulse of Klang Valley North. This was recently seen in our handover of Village Homes, with 482 proud homeowners receiving the keys to their residences in Lavena, Nara, Aida and Agalia.
Catering for our burgeoning community as well as those around us, we are launching Gardens Square to complement our residential offerings with a commercial hub. Our focus is to optimise resident and visitor experience and engagement, instead of solely maximising use of land," said Wong Siew Lee, Assistant General Manager, Gamuda Gardens & Kundang Estates.
Comprising 133 double and triple-storey shop and office lots, the 6.7-acre outdoor commercial hub emphasises open spaces in line with post-pandemic retail trends. These are brought together by car-free pathways dubbed The Street and The Alley, along with The Plaza facing Gamuda Gardens' 50-acre pet-friendly Central Park, as a platform for events and activities.
Planned anchor tenants for the hub include a 20,000-sq ft outlet from an established grocer brand, as well as a double-storey drive-through dining franchise, giving homeowners and visitors the convenience of essentials and dining venues close at hand.
Climate-responsive design towards a green future
"Klang Valley North's growing demographics, with an average household income of RM12,000 in the vicinity of Gamuda Gardens, represent a key opportunity for businesses and entrepreneurs. Gardens Square is ideally positioned to cater for this rising demand, as the only commercial offering of its kind in the vicinity. Its focus on essentials, F&B and children's products operators caters for retail drivers post-lockdown, while addressing larger climate change concerns with a suite of sustainable features," said Wong.
Gardens Square's sustainable design includes photovoltaic (PV) panels providing renewable energy for the development, as well as electric vehicle chargers in basement parking zones to encourage greener modes of transport. Integrated greenery and landscaping provide shade for visitors and passersby, while reducing urban heat island effects.
Klang Valley North's growing demographics represent a key opportunity for businesses and entrepreneurs

- Wong Siew Lee, Assistant General Manager, Gamuda Gardens & Kundang Estates
Its design uses wind flow and solar radiation analysis to maintain comfortable ambient temperatures, with the Universal Thermal Climate Index (UTCI) as a benchmark. These initiatives align with benchmarks under Pillar 1 of the Gamuda Green Plan 2025: Sustainable Planning & Design for Construction. Launched on World Environment Day (5 June) 2021, the Gamuda Green Plan 2025 is a comprehensive framework that charts tangible targets for Gamuda Group, driven on environmental, social and governance (ESG) dimensions over the next five years and beyond.
This focus on sustainability is set to attract younger demographics, with whom socially responsible practices and values resonate, bringing associated benefits for retailers
Getting the places right to make the town work
Driving the growth of the township, Gamuda Gardens' masterplan includes its lush Central Park with five cascading lakes and two waterfalls, along with a Waterfront Village offering retail and lifestyle elements. These are supported by diverse placemaking amenities under Xploria, including the Big Bucket Splash water play park, Paws Playground for agility training and fun for pets, the Gamuda Parks Nature School for young minds to learn about the outdoors, a horse-riding trail and facility by 3Q Equestrian, and much more including the much anticipated Skyline Luge, Malaysia's first gravity-fuelled luge activity park. To be built on a 40,000 sq m site overlooking Gamuda Gardens, the Skyline Luge is expected to be opened to the public in 2023.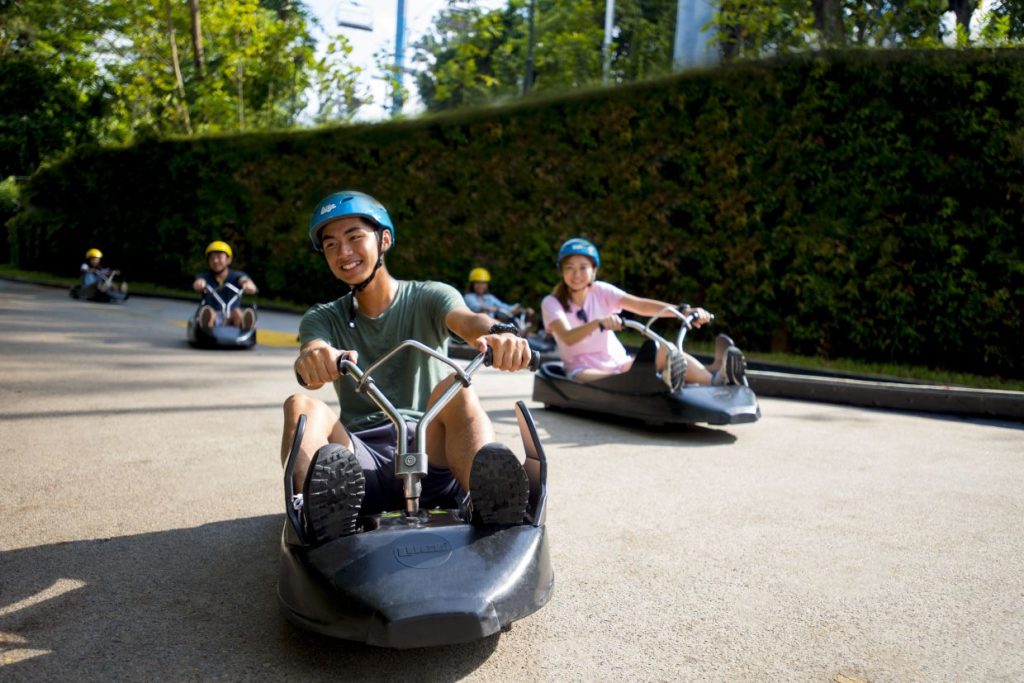 This placemaking is brought together by an infrastructure network emphasising sustainable mobility to reduce carbon footprints and build healthy communities.It includes a 68km interconnected walking and cycling walkways around the entire township, placing everything within reach for residents and visitors according to Gamuda Land's development principle of "When we get the places right, the town works."
Gamuda Gardens itself comprises 810 acres in Klang Valley's bustling northern development corridor, conveniently accessible by major routes including the North-South, LATAR and Guthrie Corridor Expressways.