An artist's impression of The Plaza at Townsquare
Gamuda Land plans to launch Townsquare — the first commercial property component in Gamuda Cove in Southern Klang Valley — on Dec 19.
In an online interview with City & Country, chief operating officer Aw Sei Cheh says about 372 acres out of Gamuda Cove's 1,530 acres are earmarked as the township's central business district. The area comprises an education park, innovation and technology park, commercial park, wellness park, wetland commercial area, leisure and entertainment park and regional corporate centre.
Located in the leisure and entertainment park, Townsquare will take up 7.49 acres and be a pedestrian-only commercial development.
The remaining area of the park will feature other entertainment components such as a 6.44-acre Townsquare Park, hotels, a regional mall, MICE (meetings, incentives, conferences and exhibitions) facilities and SplashMania water theme park. Scheduled to open in 1H2022, SplashMania water theme park is slated to be the world's largest rainforest theme park, with 28 slides and rides. Some slide configurations will be the first in the world, says Aw.
Townsquare will comprise The Plaza and 99 two- to three-storey shops. The shops, with built-ups of 2,200 to 5,800 sq ft, have a gross development value of RM220 million. During the launch of Phase 1 this month, 48 units — priced from RM1.5 million — will be released for sale. The remaining units will be launched in Phase 2, about three to four months later.
The Plaza will be a multipurpose space that can be used to host events or week- end markets to draw secondary footfall to Townsquare. It will have a dry fountain, which is a water jet fountain with pipes under the pavement that can be turned on when no event is planned. As the water shoots up, the resulting mist will act as a passive cooling element to cool down the open plaza. During events, however, the fountain can be switched off to allow use of the space.
"A town square by defi nition is a public, open space found at the heart of a town, where small streets and alleys converge into a central opening, and is often embellished with a fountain or sculpture. It is a popular space for community gatherings, often the epicentre of the central business district," Aw says.
"Townsquare is a car-free development. It is only for pedestrians, where kids can run around and people can cycle there as well. So far, the response has been positive and there have been several potential bulk purchases."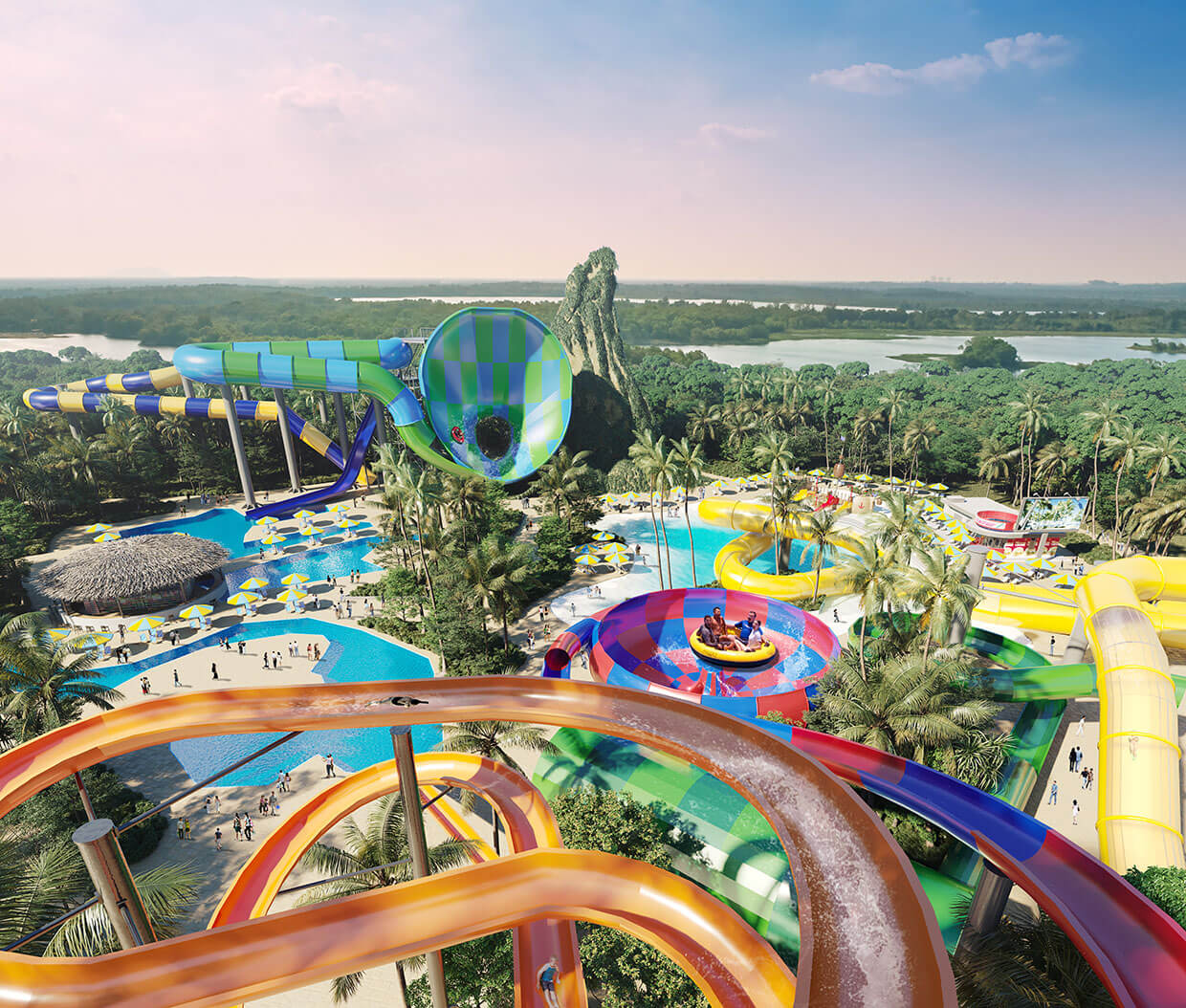 He adds that the inherent challenge is the weather. Several environmental simulations have been conducted to create a thermal-comfort environment to achieve the optimal ambient temperature of 28°C.
The scope of analysis for the weather issue includes wind movement analysis, solar radiation analysis and universal thermal cli- mate index (UTCI). For the analysis on wind movement, computational fluid dynamics will be used to predict the air movement through the development, while the solar radiation analysis will evaluate the overall solar exposure to provide an idea of how well shaded the areas of study within this development are.
UTCI is a benchmark index used to evaluate comfort in outdoor conditions, and additional strategies to enhance comfort in the outdoor areas will be implemented, such as introducing ceiling fans.
Aw says the shops at Townsquare will be connected via wide streets and narrow alleyways. The streets will be 12m to 15m wide and cyclist-friendly. There will also be integrated landscape to provide sufficient shade, with generous al fresco setting and wide shop frontage to allow optimal spillover of shops.
"The alleyways, meanwhile, are inspired by the shops in Paris, and they will be compact and narrow at 6m. Due to the narrow width, it is not recommended for the shops there to have individual canopies at the shopfront, so they are designed to have a glass canopy — mainly for rain shelter — to ensure a continuous protected walkway from one end to the other," he explains.
Owing to its location within the leisure and entertainment park, Townsquare will also be directly connected to SplashMania, the hotels and the regional mall. Aw says the regional mall is currently in the planning stage. It is scheduled to open in six to seven years from now and will have a net lettable area of at least one million sq ft.
As both Phases 1 and 2 of Townsquare will be completed in 2023, Aw is confident that the shops there will have enough support from the population around the area, as its previous launches — Palma Sands and Maya Bay Residences — are scheduled for completion in 2022 and 2023 respectively.
To further enhance Gamuda Cove's attractiveness, there will be direct access to Cyberjaya via a highway, which is yet to be named and scheduled to be completed in 2022. The journey between Gamuda Cove and Cyberjaya will reduce considerably to 2km, giving the former a population catchment of 650,000 from immediate neighbourhoods within a 10km radius as well as a working population of 103,000 from Kuala Lumpur International Airport, Cyberjaya and Putrajaya.